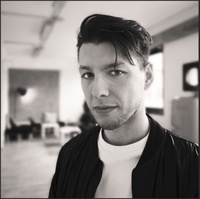 Manuele Capacci
Digital Product Designer with 10 years of experience
For every 15 minutes
I'm Europe base UX/UI Designer, dividing my life between Bologna, Italy and Berlin, Germany. I'm specialized in mobile platforms. I have deep expertise in the specificities of both iOS and Android interaction patterns, so I can help you building great experience from scratch or porting from a platform to another, keeping the core experience of your product , and improving it. My tools of the trade are Sketch, Photoshop, Invision, Zeplin, Framer, Origami and xcode .
Blood Glucose Data in Context. One Drop Mobile empowers you to track and analyze all your diabetes data — glucose, medications, food, and activity.
WHOSAY powers influence marketing campaigns for brands across all verticals and utilizes every level of celebrity and influencer. WHOSAY delivers measurably superior results to other social and mobile advertising.
Spreaker's wide range of tools covers every step of the podcasting process, from simple recording and broadcasting apps to analytics on your audience.
Github repositories
Unsplash-It-Sketch
A plugin to quickly include great looking image from Unsplash.com in your Sketch projects.
Maquette
Photoshop Interactive Prototypes Generator Script