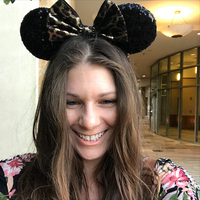 Alyssa Nicoll
Designer, Front End Developer, Angular Lover
I am an energetic, über passionate GDE and Web Dev. I have some Front-End and Angular courses on Egghead.io and Code School. I love to learn new things and share them with others. I Scuba Dive and have a toothless dog named 'Gummy'. My DM is always open, come talk sometime.
I love finding out the client's needs, creating comps, and then turning those into something they can actually use with HTML & CSS. I've gotten good at styling and animations with CSS over the years and prefer to use SASS for the various mixins and reusable variables!
Javascript truly started to click for me once I learned the Angular framework. I helped create Angular courses on Code School, and was soon after invited to become a Google Developer Expert and advocate for Angular. I love the Angular community and I love using it to develop. https://developers.google.com/experts/people/alyssa-nicoll
Transform Rotate & Scale with SVG
Tiny demo built in SVG and animated with CSS!
Angular, My First love
What a journey this has been! Code School and I started on this Journey to create Staying Sharp with AngularJS soon after Shaping Up with Angular launched. Along with conflicting time frames between dev and content teams, the untimely announcement of 2.0, and me flying solo for the first time, this course has taken longer than expected. That being said, I still use Angular in my programming on the side, she is still my framework of choice.