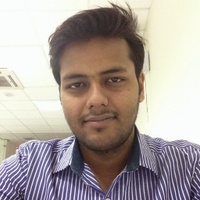 Mahesh Agrawal
iOS Developer with 15+ apps and good error handling skill.
$5.00
For every 15 minutes
Am an application developer having 4+ years of experience. Working in iOS since 3 years. Very much interested in developing iOS applications. I have a bad habit of clean, managed and serialized coding. I have some experience to share:- 1- Strong object oriented programming in Objective-C and swift with clean and managed coding structure. 2 - Very good understanding of Auto Layout and designing applications in Xcode. 3 - Familiar with iOS SDK and Frameworks. 4 - Experience in integration of web services and also developing web services using server side techs like PHP, Python and ASP.NET. 5 - Very good experience in integrating third party SDKs, Frameworks and also developed one SDK also for iOS applications. 6 - Experience in integrating social platform like Facebook, Twitter, Google Plus, Soundcloud, Instagram etc. 7 - Experience in audio and video and image processing in iOS. 8 - Experience on using socket to connect with server for live game. 9 - Experience in using platform features like Push Notification, iCloud, In-App Purchase and Application Extensions. 10 - Experience in solving problems of co-workers since started working on development field.
I am working as iOS developer since 2014. I have a very good experience in developing applications for iPhones and iPads with worked on more then 20 applications out of which worked as solo developer in almost 12 applications and delivered with expected quality. Working on this technology since those years i have mainly learnt discipline in well managed coding with serialization of modules. I have very good expertise in designing the application screens using Auto Layout. Also this is my favourite tag in stack. I have not spent too much time on stack as am working as a developer for a organization also. But always loves to solve problems of co-workers and am well known for this at my work place.