Find a mentor

Web Programming

Mobile App Programming

Programming Languages

Data Science /Engineering

Database /Operations

Others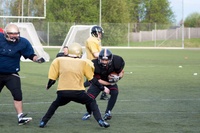 Léo Jeusset
Freelance Full-Stack Developer
Freelance Software engineer operating from the northern Sweden. I have worked for several companies as a developer and researcher, including a Canadian company, Orange Labs in Rennes, and a research team in Luleå. For the past 6+ years, I have been working as a freelancer for many companies across the globe with many different technologies. I love to try and learn new framework, language and tech of all kind. The most recent crush I had on a tech is definitely Elm: a super nice and simple yet powerful functional programming language for front end application. I also enjoy teaching and sharing knowledge and thoughts about development and thinking about how to architecture solution as neatly as possible.
I have been working with Elm for about a year and got a job as Elm developer since May 2017 for a German company as an Elm developer. This job requires dealing and improving a large code-based, dealing with a lot of ports and encoders/decoders. I love working with Elm and look forward to helping people through their Elm journey. I've also written a couple of articles about Elm available here: medium.com/@leojpod
I started working with JavaScript during my studies in France and Sweden, I later developed them while working as Research Engineer for the Luleå University of Technology. About 6-7 years ago I started working as a freelancer and I have been using JavaScript since then. I have an extensive records of JavaScript usage both front- and back-end with numerous techs: jQuery, Node.js, Express, Sails.js, Ember.js, Angular 2 & 5. I have also been teaching JavaScript, TypeScript & Node.js in Geneva for professional formations. I also participated in several small and medium sized addon/packages for ember, sails and angular 2+
I started working on Node.js as a freelancer, moved to Express/Socket.io and later to Sails.js. I am currently developing with Sails.js to power the back-end of a business software for lab workers. In 2016 I gave a formation for professional wanting to re-convert into fullstack developer. The course I was giving covered Node.js, Express, Mongo/Mongoose and lasted for a week.
I worked a lot with Ember.js as a freelancer but the most important job I had was at Smith & Carson: a law firm that has developed an important in-house business app for their lawyer and customers with the front-end built with Ember. My contribution to their application included the development of a couple of OSS addons including ember-pdf-js, a wrapper for the Mozilla library to display PDF files in a browser.
I started to learn Angular when they moved to the version 2. I had a uttermost hate for the previous version but TypeScript + a more structured project layout via Angular-cli made me rethink that a little and I must confess that I now quite like Angular. I have been contributed to the Angular2-mdl repository by creating a Fab-menu component.
Github repositories
TangibleAPI
Part of the Sifthesis project
TangibleApplications
Project hosting various application that make use of the TangibleAPI to work with Sifteo-cubes or Sphero devices
Why There's No Need For MultiCase Matching in Elm
A small recipe for avoiding the use of the "match anything" operator in Elm's `case of` expressions for better, cleaner, and nicer code
Getting started with Elm
Short post on my first step in the Elm world