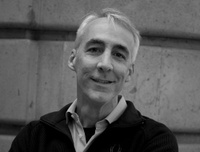 Lawrence McDaniel
📡 Full Stack Developer & Business Analyst
$15.00
For every 15 minutes
Lawrence is a Full Stack Developer specializing in cloud computing and responsive web and mobile development using Amazon Web Services and many popular open source stacks and development frameworks. He also works extensively with the open source online learning management system Open edX. He was an early employee at three startups that were later acquired by Goldman Sachs, IBM and Deutsche Bank respectively, and has participated in a successful NASDAQ IPO. He has worked as a freelance technology consultant since 1999. He earned a BS in computer science and mathematics with minors in physics and English from University of North Texas.
Github repositories
edx.ginkgo
A step-by-step fully automated script to stand up a single-server instance of Open edX release Ginkgo.1 running on an AWS EC2 R3.Large instance.
jhu-course5-mod2-solution
Johns Hopkins University - AngularJS - Module 2 - Solution
Open edX Deployment
Working with the Open edX platform can be incredibly gratifying. I've been helping Instituto Tecnológico del Valle de Etla in Mexico's state of Oaxaca to make their science and engineering...
Hello 2018!
I'm thrilled to have delivered twenty-two projects this year as an independent full-stack developer, my most productive year ever! Thank you to all of my wonderful clients for allowing me so many...