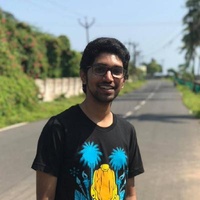 Lalith Rallabhandi
Passionate about writing, debugging and securing the code.
$6.00
For every 15 minutes
I'm Lalith, working as a Software Developer at Shopify. I'm another TDD based software guy worked with a lot of startups and learnt a lot of technologies. I'm good with development and security being able to think out of box for security issues. I'm Rails guy and would love to work on backend services infrastructure and optimisations. I eat, sleep and code daily. Visit my github profile for more details: https://github.com/lalithr95
Github repositories
Hackrank
Hackrank is Capture the flag (CTF) style contest
Auto-Suggest-Implementation
Auto Suggest is a feature used in Search Engines for retrieving predicted search queries based on user prefix query.
Average Rating
5.0
(4 ratings)
Lalith is a great Ruby on Rails developer who is highly skilled and great in troubleshooting. Highly recommended.
thank you , fixed the code that i need to run .
He's a pretty awesome Mentor!