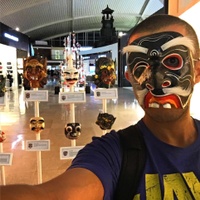 Amine Mouafik
Consultant - Senior Software Engineer - Javascript
$25.00
For every 15 minutes
These past years, I helped setup a PaaS company from scratch while living in Chiang Mai, I contributed to a fin-tech company in Sanlitun, the vibrant heart of Beijing, and more recently experienced working in the scope of a Fortune 500 OTA company in Bangkok. I've been working with a lot of different technologies so my help spectrum is wide. I'm currently working with Node.js, React.js and React Native on a daily basis; these are definitely my "forte"s if you need a pair programming session. More information available on my LinkedIn.
I have many years of experience doing both templates pixel-perfect integrations, complex client-sides applications using Angular / React, and more recently mobile apps using React Native.
I worked with Wordpress, Zend, PHP and MySQL in my early years. Then I joined the javascript wagon at an early stage, starting with jQuery, then Angular, now React. In the past few years I've been doing server-side javascript using Node. I've created many APIs and services. I also have experience in bots creation using headless browsers (Selenium/Phantom). I also deal with database choices, data structures, etc.
I have written several articles and given several talks about Docker in 2015. See "Efficient development workflow using Git submodules and Docker Compose" on https://www.airpair.com/docker/posts/efficiant-development-workfow-using-git-submodules-and-docker-compose. I also helped people learn about and reach continuous deployment in their development stack.
Github repositories
epitech-pokedex
:tiger: A desktop pokedex made using C++ with QT - Automatically exported from code.google.com/p/pokedex2010
www-mouafik
:house: Landing page