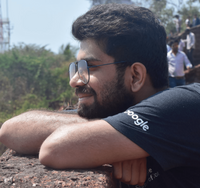 Kuldeep
Ethics, emotions and self-pride driven individual.
$15.00
For every 15 minutes
Hi!, My name is Kuldeep. I work as a Mobile and Desktop+Raspberry pi Software Developer. With React-Native on Mobile(Android + iOS) and Kivy for Desktop(Linux, Windows and MacOSX) and Raspberry pi. My capabilities for React-Native: testing (jest/detox), integrate redux, codepush, firebase, loggers, writing native module, writing native UI components, Authentication, simple and sweet UI, Animations and gesture integration, publish on both Google and Apple store, did I miss anything? My capabilities with Kivy: I will build a sweet and simple UI for your app/ software. Kivy works on these platforms: Mac, Windows, Linux, Android, ios and raspberry pi but surprisingly a majority of projects I have done were for raspberry pi. I am a basketball player for 6 years, I like blogging, I really love Age of Empires game, and all kinds of music. visit: kuldeepgrewal.com
3
React
3
Python
Github repositories
duckduckgo
DuckDuckGo App built in React-Native (Unofficial)
ReactNative-Animation-Challenges
A series of animation challenges in React Native.
Redux, Store, Actions, Reducers and logger: Get Started and a little further
Implementation and Setup to get started with redux, actions, reducers and Logger inside any react.js or react-native application.
VIEW MORE POSTS
Average Rating
5.0
(12 ratings)
Good work from Kuldeep. Give the guy an image of what you want in the UI and he will deliver exactly what you sent him. Nice clean code too.
Kuldeep is well worth his time and very helpful.
Very helpful and patient, thanks heaps
Kuldeep was great and was relentless in helping me solve my problems
Once again, Kuldeep has done a fine job. He is propelling my project forward and simultaneously helping me to learn the inner mechanisms. Brilliant work done in a very tight timeframe
Brilliant once again - I am actually having him take a look at pretty much every aspect of my code base and build on it so expect many more reviews to come!
Kuldeep took great care to understand the problem (in this case a tricky react/redux issue) without any commitment on my end. He gave me advice and, when we decided it was a good fit, implemented his solution with best practices and at breakneck speed! Excellent work!
Excellent, very satisfied.
Kuldeep did the tasks as described the first time! Very professional and would highly recommend.
Kuldeep is a great programmer and mentor and is helping my realize my dreams! ;)
VIEW MORE REVIEWS