The No-Fail Holiday Gift Guide for Developers

Christmas, Hanukkah, Kwanzaa, and other holidays are just around the corner! If you're feeling generous this season but you're not sure what to buy, we've compiled a comprehensive list of the best gifts for engineers, particularly software engineers and web developers. We asked our mentors to share what is on their wishlist for this holiday season and put together this list.
Show your appreciation for the developers you know with these gifts:
Well-wishing: Free – 💰
Sending a greeting card can show someone that you remember them this holiday season. You can always send a DIY card but there are also plenty of websites for sending pre-made e-cards. If you want to customize your e-cards, you can try Postable or Punchbowl.
But if you're looking for cards to give personally or send in the post, codecards has "letterpress greeting and holiday cards for nerds." Below is a photo of one of their holiday cards especially made for developers.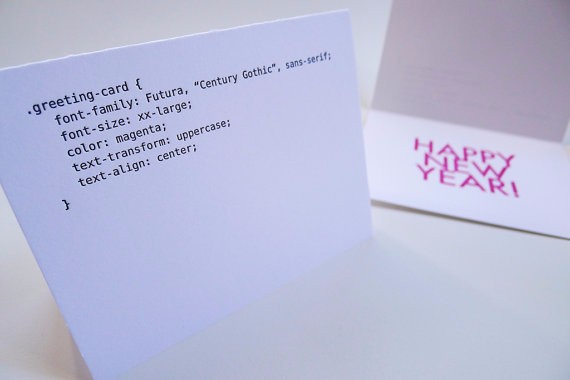 Stocking Stuffers 💰
Playing Secret Santa or White Elephant with your colleagues this year? Not planning to spend more than $20-30? Give the gift of laughter with t-shirts that programmers can relate to:


Source (left to right): JAD.store , Redbubble, Amazon

Source (left to right): oTZI Shirts, Amazon, Amazon
Or mugs like this brilliant reminder...
Source: Behappy.Me
The caffeine lovers...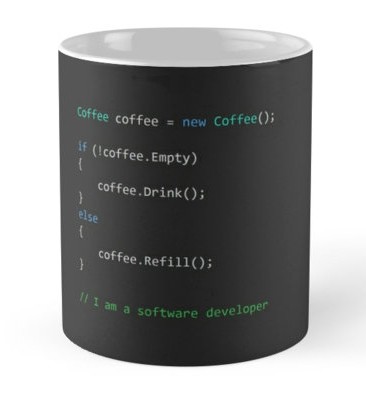 Source: RedBubble
And the cult favorite that's perfect for front-end developers.
Source: Zazzle
But if you're not sure whether the person is a front-end, back-end, or full-stack developer, you can stick with this one:

Previously mentioned on our Facebook Page
You can also customize t-shirts and mugs with your own taglines like "Keep Calm and Code On", "Eat Sleep Code", "World's #0 Programmer", and more.
Can't find your favorite programming t-shirt or mug here? Tweet us a link @CodementorIO!
For developers who do some design work and UI/UX developers, there's also this handy notebook that opens completely flat (from $18).
Courtesy of SketchyNotebook
Subscriptions and more 💰 – 💰💰
Interestingly, subscriptions were a popular gift choice for developers this year — not magazine subscriptions, but subscriptions to some of the popular online learning resources. Give the gift of knowledge with one of these:
Other goodies include:
And don't forget the gaming-related subscriptions like World of Warcraft (from $12.99/month), a popular games like Overwatch ($59.99), or card packs for Hearthstone (from $2.99) .
Now, moving onto the goodies for that really special developer...
Gadgets 💰💰 – 💰💰💰
Whether it's your family member who is a developer, your best friend, or your favorite colleague, if you're ready to splurge on a gift then here are some things at the very top of their wish list:
Drone
Source: Giphy
Make sure they read a safety guide like this one beforehand — don't want any accidents!
Laptop (e.g. Macbook Pro 15", Microsoft Surface Book, etc.)
May be good to check if they prefer iOS or Windows first. For iOS users, the new Macbook Pro with Touch Bar may be neat for those who want to write Emojicode. Below is an example from their homepage:
🏁 🍇
  👴 Let's print the first 15 fibonaccis.

  🍮 a 0
  🍮 b 1

  🔂 i ⏩ 0 15 🍇
    🍦 r ➕ a b
    🍮 a b
    🍮 b r
    😀 🔡 r 10
  🍉
🍉

Phone (e.g. iPhone X, Samsung Galaxy S8, Google Pixel 2, etc.)
Like the previous one, double check whether or not the gift recipient is an iOS user. Here's a comparison guide of the 3 most popular ones this year.
Computer monitor
If you're thinking, "But he/she already has a computer monitor", then meet Derrick Williams. He has 6 monitors (and a Quora answer with 12k upvotes).
Arduino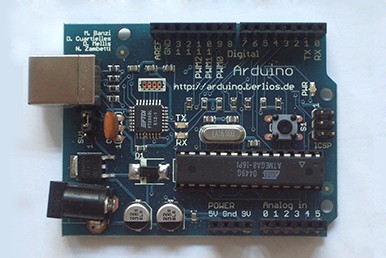 Arduino is a microcontroller (aka programmable circuit board) created as a tool for fast prototyping, and a great gift for someone who wants to build their own gadgets or wants to become a better developer. It has been used to create thousands of different projects and applications, from a fingerprint scanning garage door opener to the EyeWriter 2.0.
Kindle
Amazon's Kindle is a great gift for the engineers who enjoy reading. Better yet, you can pair this with one of the subscriptions from the previous section for a really awesome gift.
3D Printer
Turn ideas into objects that you can touch or print things to use around the house (here are 35 useful projects). Finder 3D is a reasonably priced printer that is quiet and has good print quality — be sure to check out the best 3D printers this year to familiarize yourself with what's currently available on the market.
Portable Wi-Fi Router
Know someone who hates the feeling of not having internet?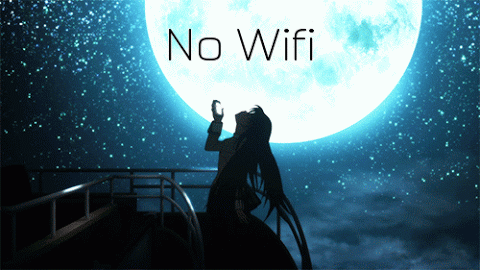 For those who want need internet everywhere they go, this magical device (aka a portable wi-fi router paired with a SIM card for data) is the ultimate gift for those who are constantly traveling or digital nomads on the go. Unless of course, they go somewhere with no reception...😱
To all the developers out there, happy holidays, from all of us at Codementor! May your code be clean and bug-free. ✌️