iOS or Android Development? What You Should Know Before Building an App

So, finally you took a decision to develop an app. Now it's time to think about the platform. Eternal question raises — iOS or Android? What are the differences and which native app would be better for your business?
1) iOS
Popularity
iOS app is popular with people from the USA and Western European countries.
iOS programming languages
Phone app developers create iOS apps in Objective-C or Swift. Such specialists who know these programming languages typically ask for 10–15% higher payment than their Android colleagues.
iOS Devices
There are about 20 iOS devices of different screen size, this lack of variety facilitates both designing and testing.
Testing iOS app
iOS emulators are faster, so testing is shorter.
Release of iOS app
In order to upload your app to AppStore, you need to follow their strict rules. One more drawback is long approvement period.
2) Android
Popularity
The majority of Android apps users live in Asia, Oceania, South America and Africa.
Android programming languages
Java is used to build Android apps. This tech skill is rather widely spread, so the sum of your investment can be lower.
Java language is more cumbersome, so you'll get more lines of code which subsequently demand more time.
Java language has a large community, so finding support won't be a problem.
Android devices
Android apps can run on a huge variety of devices which is a disadvantage for developers — they need to adapt the design for each gadget(create the responsive design). Testing also becomes more problematic because of such variety of screens your app will be shown on.
Android app testing
Android emulators are rather slow, and this factor makes testing process more troublesome.
Android app release
In comparison with AppStore GooglePlay is the easier way to introduce your product to the community.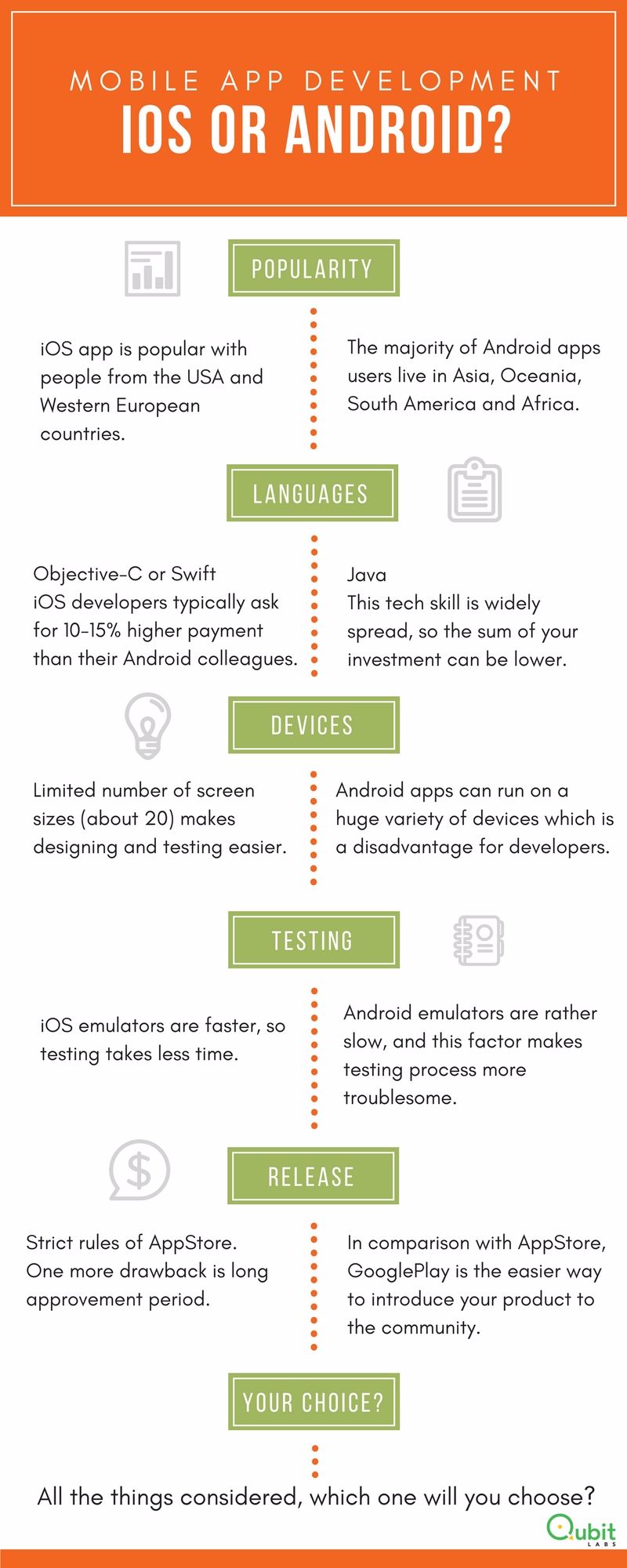 Source: Guide to Mobile App Development