Jeff Puro
Senior Web Developer with over 15 years of experience
Average Rating
5.0
(14 ratings)
Mar 2015
Jeff, was not only able to solve the underlying problem but went over the solution step by step. The session was invaluable in my learning experience with angularjs and understanding Nodejs a bit better. Thank you, Jeff!!
Dec 2014
Jeff saved my bacon! He was responsive, fast and super nice.
Nov 2014
Jeff is a genius. i mean it, Jeff solved my problem that i faced and will take me forever to figure things out. i am glad and big thanks to this man for saving my time. i cant say much, he's a solid 5 stars mentor. :)
Oct 2014
Jeff was great! This was the most productive session I've had on CodeMentor. He was able not just to fix my problem, but to understand why the problem occurred and why the solution works.
Great guy to work with, good personality and expertise.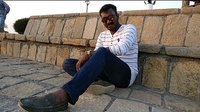 He is a great mentor, really worked offline for my issue and after understanding it only, we start the session which saves me few bucks. have a good knowledge of node.js :)