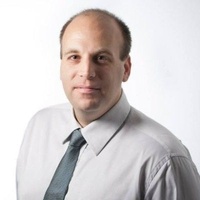 Josip Saban
Business-focused individual with over 10 years of professional experience in the IT Industry
$15.00
For every 15 minutes
Business-focused individual with over 10 years of professional experience in the IT Industry, with experience ranging from operational work to managing teams. High technical knowledge and experience in planning, designing, implementing and managing ICT systems, on local and international projects. Key focus on financial ICT systems including integrations with external systems, data warehouse solutions and other embedded systems. Professional goals: self-improvement and further education, seeking to work in a dynamic IT environment with companies which recognize the value of new and innovative IT technologies. Passionate about learning and adopting new technologies and overseeing implementation of those technologies, aiming to innovate the way IT supports business processes. Specialties: managing small to medium teams, organizing projects, enterprise architecture, design programming patterns, problem solving. Technical experience: Dot.NET, SQL Server, Microsoft Project Server, Microsoft Biztalk, Informatica, Business Objects, Oracle Hyperion.
More than 12 years exclusive work with SQL Server, from version 2000 to version 2016, holding all certifications for those version, done multiple projects of various project and team sizes. Projects included web development, enterprise data warehousing and data modelling.
5 years as project manager, in corporations and in startup. Also lots of knowledge about team building and what turns on IT people, and how to behave in face of calm and not so calm project times.
With dozens of conference presentations and internal and external educations held in front of various public, I am a guy with lots of experience of sharing knowledge and promoting stuff I like to do and I am proud of.
Planning and supervising IT education and employment process. Design and implementation of IT summer student program.
2017
Client: Erste Bank Croatia
Creation of new enterprise data warehouse
Analysis and documentation of business requests. Development of implementation strategy and BI architecture. Management and execution of IT projects, leading a small team
2015
Client: Hypo Alpe Adria Bank
Data warehouse programming
Development of new modules for existing data warehouse system, programming in Oracle PL-SQL and reading business documentation to create viable programming units
2013
Client: Societe General Bank
Strategies For Aigning Your Organization To Your Cloud Model
How to move your organization to cloud.