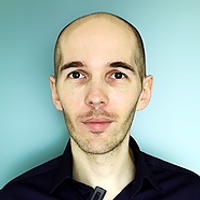 Jonathan Roux
Expert C, C++, C# developer - 10+ years experience
$19.00
For every 15 minutes
Expert developer with strong debugging capabilities. 10+ years experience in C, C++, C# programming. From embedded systems (low level drivers), to Mobile applications (Xamarin, iOS, Android). Skills : - C/C++/C# - Development, debugging, optimizations - Memory structures, pointers, arrays, chained lists... - Mobile apps: Xamarin, Mvvmcross, iOS/Android - Multi-core/Multi-thread - Real-time and memory constraints. - Web technologies: php, mysql, javascript, wordpress, jquery
Development of iOS/Android mobile applications with Xamarin and MvvmCross. Trainer on Xamarin and MvvmCross technologies.
Created a product line of my own used by 500+ customers (www.directsynth.com). C++ with VST SDK (PC/MAC)
Worked 10 years in the mobile phone industry as a software engineer. I began writing mobile phone applications for Purple Labs. Then I worked on other software stacks (linux driver for Android devices, ARM assembly for TrustZone, TEE…) for companies like Trustonic, Texas Instruments and NVidia ; on all project phases: specs, development, debugging, tests ; with different organisations types: startups, big companies, collocated/distributed teams.
Average Rating
5.0
(2 ratings)
He is good and really knows stuff. I would recommend