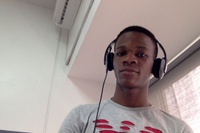 Solomon Kingsley
Full Stack Software Developer
Experienced Software Engineer with a demonstrated history of working in the information technology and services industry. Skilled in Javascript, PHP, HTML5 and Cascading Style Sheets (CSS3). "I'm an ardent reader, in as much as I love reading, I also love teaching" http://medium.com/eliteng
Cards for Humanity is a fast-paced online version of the popular card game, Cards Against Humanity, that gives you the opportunity to donate to children in need - all while remaining as despicable and awkward as you naturally are.
Github repositories
playpoint
Interactive Multiplayer Tic-Tac-Toe Game
Build a Cryptocurrency Tracker with Vue.js
As cryptocurrencies continue to grow in popularity, the value of cryptocurrencies can vary greatly over time. If you're lucky, some coins bought for a handful of dollars a few years ago can be...
API Routing using ExpressJS Router 4.0
Express 4.0 comes with the new Router. The router is a mini express application. It doesn't bring in views or settings, but provides us with the routing APIs like .use, .get, .param, and route.