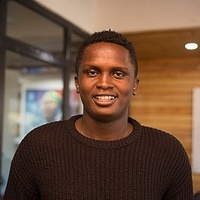 John Kariuki
Full stack Software Developer.
Average Rating
5.0
(10 ratings)
Aug 2017
Great teacher! John helped me solve my issue and taught me new ways of approaching a problem.
Jul 2017
John is very Knowledgable and professional! He is able to approach the problem in a very sufficient way and explain it to you simply. Thumbs up for React as well!
very helpful, fast and patient
Nice guy and good at explaining things concisely and in a way that they make sense. Will continue to work with him in the future for Node js stuff for sure :D
Amazing how smart codementors are!
very friendly and able to adjust quickly to your issues!
John was very knowledgeable and helpful! Highly recommend.
John was a great mentor, he is very patient, friendly and logical in his thought process and explains every step that he takes one at a time. He was very mindful of the budget that I had for the session and was kind enough to volunteer his own time even after the session had ended. I would recommend a session with John wholeheartedly.
Very good programmer, completed the task in a very good time frame and with very efficient code. Highly recommend to people that require good quality work! Thank you
First and foremost, John has sharp technical acumen. Easy to speak to and very patient As a mentor, he has inspired me to change my thinking pattern and coding style. He is skilled at mocha and I was impressed at this sense of perseverance, with a follow up session. Thanks for the help John. Good work ,Great spirits.! Will be back for more sessions on node. Thanks again!