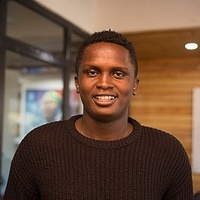 John Kariuki
Full stack Software Developer.
$25.00
For every 15 minutes
John Kariuki is a software developer at Andela. An ambitious and generally curious gentleman, he strives for greatness and is driven to grow himself and those around him through collaboration. As a world class developer, Mr. Kariuki lives by the simple principles of :- 1. Constantly learning and unlearning. 2. Upholding industry standards in professional software development. 3. Constantly challenging yourself. John wrote his first line of c++ code in 2011 and describes the journey as insightful, painstakingly educative and a constant source of inspiration to be more. He is proficient in:- 1. PHP with Laravel and CodeIgniter. 2. AngularJS, jQuery front-end Javascript frameworks. 3. HTML5, CSS3, Javascript 4. Node.js 5. Database (MySQL, PostgreSQL, MongoDB) 5. Test Driven Development (TDD), Continous Integration / Continous Deployment 6. Single Page Applications (SPA) 7. REST and RESTful API architectural style 8. Implementing Remote Procedure calls. 9. Docker 10. Gooogle Cloud Platform. 11. Kubernetes He is currently learning and actively developing in React and Redux in a very experienced team of engineers in Nairobi and New York. An avid blog reader, writer and fascinated by drones, John plays basketball, goes swimming and jogs in his free time.
Eastern Time (US & Canada) (-05:00)
English
I have worked in distributed teams to build out APIs that are scaled independently as microservices. I am proficient in working with Node.js with respect to security, scalability and performance optimization. I have worked with Node.js routing frameworks like express and restify and ORMs like sequelize and Bookshelf and knex. I also write on the same on https://pub.scotch.io/@johnkariuki
Extensively worked with native PHP, CodeIgniter, Slim and Laravel in both personal and team projects.
I have developed and deployed dockerized applications in Google Cloud platform using the powerful orchestration platform, Kubernetes. I have also written a series of articles on the same. Here is a link to them. https://scotch.io/tutorials/google-cloud-platform-i-deploy-a-docker-app-to-google-container-engine-with-kubernetes https://scotch.io/tutorials/google-cloud-platform-ii-continuously-deploying-a-docker-application-on-google-container-engine https://scotch.io/tutorials/google-cloud-platform-iii-handling-sensitive-data-in-a-docker-application-with-kubernetes-secrets
Average Rating
5.0
(10 ratings)
Great teacher! John helped me solve my issue and taught me new ways of approaching a problem.
John is very Knowledgable and professional! He is able to approach the problem in a very sufficient way and explain it to you simply. Thumbs up for React as well!
very helpful, fast and patient
Nice guy and good at explaining things concisely and in a way that they make sense. Will continue to work with him in the future for Node js stuff for sure :D
Amazing how smart codementors are!
very friendly and able to adjust quickly to your issues!
John was very knowledgeable and helpful! Highly recommend.
John was a great mentor, he is very patient, friendly and logical in his thought process and explains every step that he takes one at a time. He was very mindful of the budget that I had for the session and was kind enough to volunteer his own time even after the session had ended. I would recommend a session with John wholeheartedly.
Very good programmer, completed the task in a very good time frame and with very efficient code. Highly recommend to people that require good quality work! Thank you
First and foremost, John has sharp technical acumen. Easy to speak to and very patient As a mentor, he has inspired me to change my thinking pattern and coding style. He is skilled at mocha and I was impressed at this sense of perseverance, with a follow up session. Thanks for the help John. Good work ,Great spirits.! Will be back for more sessions on node. Thanks again!