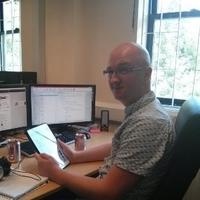 James Leckenby
$40.00
For every 15 minutes
I'm a professional and experienced developer working with web systems for my day job. For over two years I have led and deployed high-usage, critical React applications and websites to large businesses across the UK. My passion lies in JavaScript, and I'm here to help you and do what I love best - problem solving! Please view my linkedin profile for more details and recommendations.
React
- 4 years experience
I have been using React since its initial release, and have successfully completed many projects for clients during this time. I have led a team who has developed and deployed high-scale and critial applications and websites with great success. I have also implemented isomorphic websites using Laravel as a backend. My day job involves running a team of React developers, I breathe this stuff!
The majority of my time is spent coding JavaScript. I've built a large amount of web applications for large clients around the world. Of particular note would be the floor planning software used by many estate agents throughout the UK. This is used by over 1000 people every day with great feedback. Ive also built multiple high-profile React websites, including the largest 5-a-side football company in the UK.
Average Rating
5.0
(2 ratings)
Always a good conversation
Excellent mentor Good Listener. Gets to the root of the problem. Highly recommend!