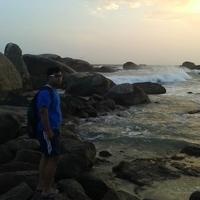 Senior Full Stack Software Developer and R expert
Average Rating
5.0
(208 ratings)
May 2018
Quick and painless to work with, great communication and when he accepts a job you know he will get it done even if it means staying up to complete it. Wholeheartedly recommended!
Very helpful and knowledgeable. He helped me understanding cache and reference of locality
Very Adept at Haskell! Highly recommend
I've asked James for help for several times. And he always did great job on it. Besides, he replays your question in a short time. Thanks James!
James did great job on this project. The codes are neat. Really appreciate what he did for me. Thanks again!
James could not have possibly been a better help to me with my large scale project. His code is efficient, accurate, and always works great. He is an excellent communicator and a nice guy that communicates very well. I highly recommend him for any coding task that you may need completed!
Helped me out greatly with a C exercise.
Very efficient and gets work done in a timely manner
James is extremely helpful and skilled at haskell. He got my challenging problem done in a timely efficient manner and dealt with my tons of inquiries and respecifications with patience. Would recommend to anyone who has projects in haskell!
Very professional and knows his stuff very well. would definitely recommend !
Great job. Did it in a very timely manner which was important for me.
Truly a legend! There is no one better to hire for a project/task, he is just simply amazing. He is incredibly hardworking and excellent with deadlines!
Excellent programmer. Did a 1 month complicated C++ project in just 24 hrs. He's worth your money.