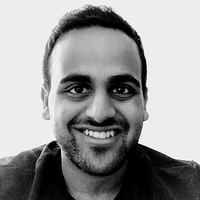 Jacob Abraham
Eager to help anyone and learn along the way :)
$20.00
For every 15 minutes
I have a Bachelor's in Computer Science from the University of Illinois. I have done several internships throughout my college years. I am currently working full time as a software developer at a top tech company in Canada called Shopify. I have experience with mostly Java and Ruby, and I am excited to help anyone who needs it!
Package tracking app from Shopify. I work on the server side.
How I learned Ruby
About me Software Developer at Shopify Why I wanted to learn Ruby My motivation for learning Ruby is that my current role requires this language to be used for our project. How I approached...
Average Rating
5.0
(4 ratings)
Jacob did a fine job helping me complete my assignment for Ruby. Very professional and will get the job done. I would highly recommend using Jacob Abraham's codementor services.
Jacob helped me to find a script to automate the running process of java files.
Awesome guy. willing to help you as quick as possible.
Was very helpful in helping me explore a difficult issue in my code. Very responsive. Would highly recommend!