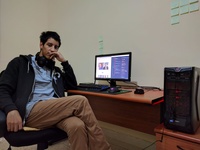 Ismail Ghallou
Self-taught Graphic, UI/UX Designer & Front end developer, Machine & Deep learning belong to my interests as well
Github repositories
unnamed-css-framework
A simple colorful css framework
Perceptron-neural-net-from-scratch
A single artificial neuron from scratch to understand the maths behind neural nets !
Build your perceptron neural net from scratch
Understand the maths under the hood of a single artificial neural net also known as the perceptron and build yours from scratch
My Short Journey Building Unnamed - My Own CSS Framework
I'm a 20 year-old, self-taught front-end developer. I wrote this post to share my story of building Unnamed, my own CSS Framework, which became the #1 Product of the Day on Product Hunt.