Find a mentor

Web Programming

Mobile App Programming

Programming Languages

Data Science /Engineering

Database /Operations

Others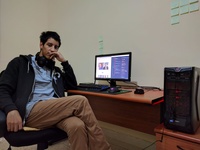 Ismail Ghallou
Self-taught Graphic, UI/UX Designer & Front end developer, Machine & Deep learning belong to my interests as well
I've designed so many User interfaces for my own projects, while having internships, during current work & for so many clients as well, everything can be found on Dribbble: https://dribbble.com/smakosh & Behance: https://www.behance.net/ismail16sm9991.
I've designed a bunch of logos, business cards, icons, illustrations & banners for so many clients that can be found at my Dribbble account: https://dribbble.com/smakosh & Behance account: https://www.behance.net/ismail16sm9991 .
I've coded so many user interfaces I designed but also managed to handle full front end of many projects specially during work, have played around with html/css/js and css pre-processors such as sass/scss/postcss, have tried JS libs and frameworks such as Jquery/Angular 4/Gulp js/Vue js, also recently I've been using git & github almost everyday, used packages managing tools such as npm & pip...
I have also used php/mysql to make some web apps from front to back end but I didn't pursue this road and had to switch to MEAN stack instead.
I understood how each neural network works and the core learning algorithm and have written an article on how to build a perceptron from scratch using only numpy to handle the maths, https://medium.com/@ismailghallou/build-your-perceptron-neural-net-from-scratch-e12b7be9d1ef
Github repositories
unnamed-css-framework
A simple colorful css framework
Perceptron-neural-net-from-scratch
A single artificial neuron from scratch to understand the maths behind neural nets !
Build your perceptron neural net from scratch
Understand the maths under the hood of a single artificial neural net also known as the perceptron and build yours from scratch
My Short Journey Building Unnamed - My Own CSS Framework
I'm a 20 year-old, self-taught front-end developer. I wrote this post to share my story of building Unnamed, my own CSS Framework, which became the #1 Product of the Day on Product Hunt.