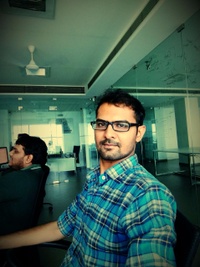 Hiren
Android Application Developer
I have worked on more than 50 projects. Good knowledge of MVC, MVP and MVVVP architectural pattern. Client/Server/Cloud Communication & REST API OS version compatibility knowledge FireBase Knowledge (FCM) ProGuard Android Lint & Unit Test Cases Social Media Integration Knowledge of Automation testing tool (Junit/ Calabesh/Espresso/ Monky talk/ Apium etc) AR/VR Knowledge Bluetooth & Wifi Connectivity I have done already several apps such as Social, Booking, Automobile, Food & Drinking, Shopping, Traveling, Dating & Chatting, News & Events, Business & Finance, Photo/Video Editing & Sharing, Lifestyle, Map Navigation & Location Tracking, Music Apps etc. I want you to succeed. I believe hard work above all. I value creativity, communication, and honesty. I breathe quality and produce quality.
Happy Guru APP is for yoga institutions in the world. user can book a session anywhere in the world and at any time of day. And receive notices of meetings that do not want to miss in the coming days and in any city in the world. Trainer or yoga institutions can create centers and events. Information updated in real time. Integrated payment gateway through PayPal.
With Mapbook app user can store map or location in a totally personalized way with photos, notes and can share your map with anyone you like. You can add photos from camera to your maps and mapped location. If you like to add some notes related to map location you can do that by simply Add Note option.  Once you store your map and location you can monetize it with Photos and Notes you can share it privately with anyone you like. On the other side user doesn't need Mapbook installed but if they want to see photographs and notes they will have to download.
The Green Line service is a direct communication channel with Spain Cities Hall. To contact Spain Cities Council and inform to detect any damage in your municipality. A Dumpster full, a semaphore with molten light, a jammed sewer, etc. In just four easy steps (selection of type of incident, location, photo and comment you can make it known to your Town Hall.