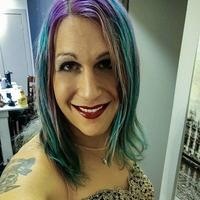 Holly Springsteen
Front-End, Back-End, Databases, Design ... I do it all!
$30.00
For every 15 minutes
Who am I? Where did I come from? Why am I here? Born and raised in New York (just outside NYC), so I come with the never slow down determined attitude that everyone knows and loves ... maybe. I joined the Marine Corps at 18 and spent 5 years serving. During which time I was afforded many fantastic opportunities, such as leading approximately 120 Marines across several units to prepare equipment for the 2011 Tōhoku earthquake relief missions. After leaving the military I worked as a designer and photographer for several years having been published in What Digital Camera as well as several smaller publications. After a client asked me to build them a website, which at the time I didn't know how to do. I begin digging in and learning the basics on how to accomplish this. I was able to put together a basic Wix site for them. This intrigued my interest like never before and two weeks later I was at Full Sail University, where I began my journey towards getting my Bachelors in Web Design and Development. Shortly after starting I got my first job as a developer and designer for a local startup. It was mostly writing, get ready for it, HTML emails. But I was happy to be working as a developer! After some time I was hired as the first developer for a startup, Portlight, and thus began building a team of 6 developers to build a custom e-commerce platform. Unfortunately, due to some of their business practices I could not stay on with the company and see the project through to completion. After leaving Portlight I began the interview process and was hired on at IBM Design. This is what brought me to sunny Austin, TX. I have been with IBM for 16 months, in which time I have managed to accomplish more than I ever thought I would. From having built and displayed a project at SXSW this last year (2016) to being the first member of the Net Promoter Score team for IBM and recruiting a team of developers focused on the customers experience. Where today I'm currently acting as Architect, Scrum Master, and Full Stack Developer. On the side... Aside from my work at IBM I am also a TA for The Coding Bootcamp at UT Austin, a 6 month part time program teaching students of all ages to become Full Stack Developers. I am also on several advisory boards including The Iron Yard, Full Sail University, and soon, possibly, Huston-Tillotson University. Of course when not doing any of that I'm out on the river paddle boarding or under it SCUBA diving (I'm a divemaster).
Central Time (US & Canada) (-06:00)
English