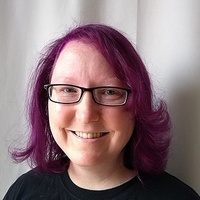 Darla Magdalene Shockley
For every 15 minutes
I'm the data team lead for a startup. I do data science and data engineering using Python, AWS services, and Elasticsearch. I'm a data science and data engineering generalist, with infrastructure experience, and deep knowledge of Elasticsearch and Python. In the past, I've been a backend developer, full stack developer, and a PhD student in Natural Language Processing (focus: automatic text summarization). I also work occasionally in Node.js. My undergrad degree is in Linguistics, and I have a masters degree in computer science.
I've spent the last 5 years working full stack, then backend, then data engineering, using Python as my primary language. Right now I lead the data team for an adtech startup, where we focus on data engineering (ETL pipeline based on AWS services + python), and some data science work.
In my current professional work, I use Elasticsearch to serve our custom analytics platform, as well as for business intelligence, and we also use ES to search our video content library. I've designed and implemented our "related video" feature using ES. In the past I've worked on query optimization, custom scoring metrics. I'm very proficient with the ES query DSL, and also with python tools (elasticsearch-py, elasticsearch-dsl).
I've used Lambda in multiple data pipeline projects, including event-driven lambdas for a large percentage of the T (transform) part of the ETL pipeline. I've used primarily Python (and a bit of Node.js), and have used the VPC Lambda feature to securely access data sources and destinations, and have used DLQ feature to capture and respond to errors.
Github repositories
athena-legislation
Web application to get notifications about local- and state-level legislation.
category-experiments
Some proof-of-concept experiments in tagging text with categories, using sklearn+nltk.
Average Rating
5.0
(1 rating)
Darla is patient, flexible, and knowledgeable of a range of backend architectures. She seems confident to tackle whatever is thrown at her too!