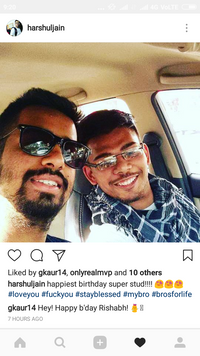 Harshul jain
Expert Python developer and Deep Learning Practitioner with 3 yrs of experience
$15.00
For every 15 minutes
You give me anything, I will try my best to reach to the solution. > I am a Python tutor, and active open source contributor and a philanthropist. I do Codementor because I love to help people out within my areas of Expertise. > I have won, and participated in couple hackathons. My projects can be viewed at https://github.com/harshul1610 > I am an active Volunteer , Speaker at Python conferences and Meetups. > I have total of around 2 years of experience into Python and pretty confident to help out others.
11
Python
Alzheimer Detection using Deep Learning
This research project is about the detection of the Alzheimer disease among the patients. Early detection of the Alzheimer disease will help in early treatment, which can prevent the exaggeration of the symptoms. We aim to do so with the help of Deep learning, which is part of machine learning. In this project we use three types of architectures for deep learning. LeNet-5 Transfer learning Video Classification
2017
Client: Tsuyoshi Hashimoto
Github repositories
whatsapp_sound_bot
yowsup integration from scratch for tts.
Average Rating
5.0
(63 ratings)
Great mentor! Very Helpful.
Extremely helpful. 5 Stars. Will definitely hire again.
helpful and patient. understood what I needed and was proficient
great mentor, highly recommend
Harshul was kind and flexible with giving me assistance. Especially since I haven't used any company for assistance before. Also was able to help me understand a couple of syntax / logic issues I didn't understand very efficiently. I appreciate it!
Helped me with everything!!!
This is the best mentor I have had! He is so knowledgeable and helped me run everything on my computer. Would recommend to ANYONE looking for a reliable and efficient mentor. By far THE BEST
Patient and very skilled in Python. Recommended.
Harshul is very knowledgable and very patient. I found the session very useful. Awesome. Thanks so much
Harshul has been so helpful with the many questions I've had while writing programs for my Intro to Python class. I did not have much coding experience previously, and he was able to explain things in a way that even a beginner could understand-- He is very clear in his instruction which is not always an easy thing to do! I am walking away a lot more confident in my skills than I was before. Despite a 9 hour time difference, he was also very flexible and made himself available at times that worked for me, which I really appreciate. He's been such a great teacher and resource and I highly recommend!
VIEW MORE REVIEWS