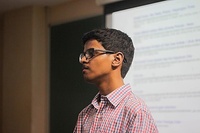 Harshit Prasad
Full Stack Engineer | Exploring the world of Deep learning
$10.00
For every 15 minutes
I am an experienced Full Stack software developer. I have experience in code debugging, refactoring legacy code, writing automated unit tests and deployment of projects on various platforms like Docker. I'm also currently learning and exploring the field of Deep Learning.
Auto Deployment of Pull Requests on GitHub using Surge Technology
Generating deployment links for pull request on GitHub using Surge technology.