Find a mentor

Web Programming

Mobile App Programming

Programming Languages

Data Science /Engineering

Database /Operations

Others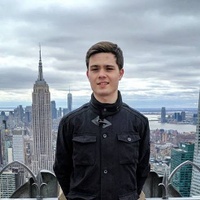 Vladyslav Holubiev
Back-end Software Engineer
$15.00
For every 15 minutes
Software Engineer proficient in building full-stack web applications, APIs and infrastructure. Working in a rapidly changing startup environment with vague requirements. Taking over project ownership to deliver and drive innovations. Buzzwords: AWS, JavaScript, Docker, Serverless, Microservices, node.js, Docker, Elasticsearch, MongoDB, APIs, Infrastructure, CI, DevOps, TDD, Terraform, Jest, Wallaby, Meteor Also the most active GitHub user in Ukraine - http://commits.top/ukraine.html 🌐 vladholubiev.com - personal website 💻 github.com/vladgolubev - 15000+ contributions over the last year ✍🏻 medium.com/@vladholubiev - 200+ followers 💬 twitter.com/vladholubiev - sharing & learning 🧠 stackoverflow.com/users/2727317/vlad-holubiev?tab=profile - 1500+ rep, helping beginners
Building the back-end of shelf.io using node.js every single day. From small libraries and CLIs – to REST API microservices and serverless projects. I enjoy TDD and use Jest with Wallaby.js to write thousands of unit tests.
Building the infrastructure of shelf.io on AWS. Using Terraform to develop repeatable and predictable infrastructure as a code. From ECS Clusters and SQS – to serverless lambdas and SNS. Static websites on S3 with CloudFront and blue-green deployments to multiple stages.
Building a big Meteor.js application at shelf.io – both back-end and front-end parts. Familiar with Meteor framework since version 1.1.0 up until the newest 1.5.2. Solved dozens of quirks and naughty bugs related to upgrades ;) Also migration large monolithic codebase to microservices and serverless functions.
Github repositories
serverless-libreoffice
Run LibreOffice in AWS Lambda to create PDFs
docker-in-aws-lambda
Run Docker containers in AWS Lambda