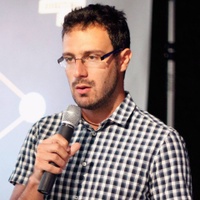 Daniele Ghidoli
Frontend Engineer | Angular Fanatic
$20.00
For every 15 minutes
I work at Wallapop as Frontend Engineer in the sunny Barcelona. If you are looking for an Angular expert, you have found it! I'm in love with Angular: I started using the version 1.x three years ago and switched to Angular 2 as soon as it was RC. I like to mentor other developers, helping them with coding issues, solving bugs and improving their code. I also recently started a blog with some Angular tips: http://blog.danieleghidoli.it/
3
Typescript
I have a long experience with Angular: from 2014 to 2016 I developed alone the frontend of my former startup (musikee.com) with AngularJS 1.x and I think it's the biggest web app I have ever made. In the last year, I have worked as frontend engineer at Wallapop, working in a team developing a huge web app with Angular 2/4. I love Angular and I think I can describe myself as an expert in it.
In the last year, I have always shipped my Angular code with 100% unit testing coverage, using Karma and Jasmine. I know the best strategies and techniques for testing a component, a service, a directive, a pipe... how to mock providers, spying methods and so on.
Github repositories
angular2-jsonapi
A lightweight Angular 2 adapter for JSON API
angular2-form-utils
Useful components and services that will help you managing and validating Angular 2 Forms
Average Rating
5.0
(21 ratings)
Excellent job ! I explained Daniele my problem (chaining http post requests) and he immediately understood how to solve the problem. We only needed 14 minutes for the solution. Many Thanks.
Awesome job. Quick and efficient !!!
patience and knowledgable!
VIEW MORE REVIEWS