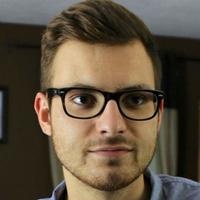 gdangelo
Full-Stack Software Engineer, Loves teaching and Patient !
$10.00
For every 15 minutes
Hi ! I'm Grégory, I'm a full-stack software engineer. I've graduated from a french engineering school where I studied Computer Science, Telecommunications and Networks. I'm interested and passionate about multiple fields in Computer Science and I'm ready to take up these as long as it challenges me. I have a particular interest in web applications using Javascript. Procedure: - The timer won't start until I fully understand your issue. So, take your time to explain what's wrong ;) - You may send me your request ahead of time so we can be more productive during the session - 100% satisfaction guarantee or your money back If you need more details don't hesitate to contact me at : gregory@gdangelo.fr PS: I am thrilled to announce that my first online React.js training course will be launching soon on Udemy! I am offering an EARLYBIRD 70% OFF DISCOUNT. Register now by following the link : http://gdangelo.fr/mailing-list.html
During the last couple of years I have been involved in several Node.js apps mainly using the well-known MEAN Stack (MongoDB, Express.js, AngularJS, Node.js) along with technologies like Socket.io, Webpack, Babel, ES6...
Building a Mailbox Editor using ReactJS and Bootstrap
Start hacking on Facebook's React library with this tutorial. To do so, we'll be building a simple but reusable Mailbox Editor that you can drop into an administration interface for instance.