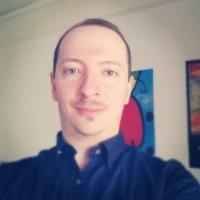 George Delaportas (ViR4X)
Hacker / Enterprise Architect :: Solve what others don't.
For every 15 minutes
The "impossible" is a word that does not exist in my vocabulary. I have the gift of the multi-dimensional thinking. I am capable of finding solutions from different angles when others give up and I always succeed. I am an Enterprise Architect/Engineer with a solid background and experience. I am also a certified White Hat Hacker. In the past I have worked in large projects and I built the infrastructures, the frameworks and the foundations on which I then optimized or made additions and enhancements. I am the guy who will provide you with the solutions in the most demanding problems.
Github repositories
micro-MVC
An agile, small, productive and robust MVC framework
GreyOS
GreyOS is a browser-based O/S entirely developed in PHP, JS and HTML5.
Average Rating
4.6
(9 ratings)
Unfortunately this time not good understanding of the issue and of the topic.
We didn't solve the problem due to my own time constraints and not being able to be on for long but he gave me a clear path to solving it and with a little more effort on my own time, I am now confident I will.
George was great! Very helpful!