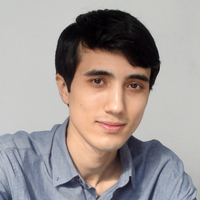 Farrukh Yakubov
Average Rating
5.0
(10 ratings)
Nov 2017
I got a lot of help for Java with assignments and exam prep! Definitely recommend to everyone!
Did a perfect job, was on time, kept updating me on progress, and explained it well!
Aug 2017
excellent mentor would not recommend anyone else. He took his time to explain the details to me and is the most patient mentor who has ever helped me before.
Apr 2017
By far one of the clearest and easily understandable mentors! Helps you find simple straightforward solutions to questions, no over-complications. Answers questions concisely and makes sure you understand what's going on. I recommend this guy to anyone.
Very knowledgeable, open to ideas, patient, and extremely hard working. Met and exceeded expectations in every facet of the project. Highly recommended!
Very knowledgeable, patient, and professional. Listened to all of my questions and went out of his way explaining concepts I wasn't familiar with.
Mar 2017
He is an amazing mentor helped me understand stuff.
Farrukh was very helpful and his English is great. He helped me write a SHA-256 hmac plugin in Java.