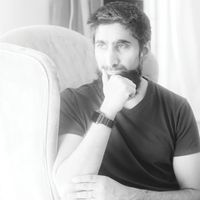 Fuad Kamal
I help health & fitness companies craft engaging mobile experiences.
For every 15 minutes
I help health & fitness companies keep their customers engaged with native mobile experiences that keep pace with the latest platform developments. I enjoy diving deep into business problems and finding solutions that truly benefit my clients, mentoring others and constantly educating myself. Here's what some of my clients have had to say about me: "Fuad and his team at Anaara took our mobile applications a huge step forward. They revived our Android app, rewrote our iOS app from the ground up, creating a truly responsive and intuitive experience for our users. Fuad's attention to detail, his professional conduct, and commitment to quality helped us to create a better product. Fuad and his team are very passionate about mobile and always keep themselves abreast of the latest platform developments. It was a pleasure to work with them." -Ramanarayanan Balasubramanian, Product Manager (Big Data and Mobile) at Envolve PeopleCare "Our company provides critical solutions for large telecom companies worldwide. We found an ideal partnership in Fuad and his team at Anaara. They helped us to create customized solutions for our clients, such as a mobile app that would allow executives to keep track of network health from anywhere across the globe. Their development prowess was second to none as was their expertise in user experience, information design and data visualization. Anaara supported us in bringing cutting edge business solutions to our clients every time. It has truly been a pleasure to work with the folks at Anaara." -Rajneesh Malik, VP of RAN at AMDOCS "Fuad is a pleasure to work with. He demonstrates a deep understanding of mobile UX and keeps up-to-date on the latest in mobile development, bringing optimal solutions for our mobile strategy to market." -Ginny Hong, UX Designer, Centene Corporation Click here to set up a time to chat: https://calendly.com/anaara
Github repositories
Companies-that-Use-Swift
List of companies that are 100% Swift for their iOS applications
networking_tutorial
Kotlin Networking Tutorial
Average Rating
4.5
(2 ratings)
This tutor is really bad... because i set up a session with him and i asked him to help. He took 30 mins and did nothing. After that he messed up with my theme and my website gone but still I pay him for no reason. Don't select this tutor.
Fuad helped me get started with photoshop. He was very patient and informative throughout the session and sent me a lot of information and tutorials. I felt much better about using the tool after the session ended. I would definitely recommend working with him!