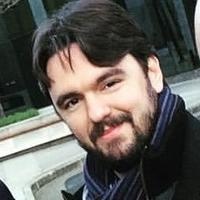 Lucas Bertoni
Average Rating
5.0
(75 ratings)
May 2018
Excellent mentor. Clear in explaining concepts. Fixed all issues and suggested me how to improve the things. I always learn new things from him. Friendly and patient through out the session. Love to work with him again.
Dec 2017
Excellent!!! I will hire again
Nov 2017
He is very patient throughout the session, and he is really great with Angular, JavaScript, and C#. I would definitely take his help anytime needed. Great mentor!
My session was incredibly helpful. Lucas was able to fix all of my issues in a very short amount of time. The session was friendly but professional and well priced. 10/10 would recommend.
Oct 2017
this was my first session with a code mentor. Lucas was great and I will be setting up regular sessions with him in the future. He even provided me with additional resources to practice coding with on my own. thank you Lucas more making my first experience a good one.
Very intelligent and great mentor. Not only did he help me solve my issue but I also learned a lot from just a 1 hour session. I will come back for more help!
Lucas was very awesome mentor! He makes sure that you understand take his time to explain each step, overall, I recommend Lucas as long-term mentor Thank you, Lucas, for your help!
Aug 2017
Jul 2017
He is the best guy for Angular and Web Development. Super friendly. Talks to you like a friend. Solves the problem with you and guides you . Would recommend everyone who is really looking for a mentor. Would really like to take guidance under him. Thank you Lucas. P.S : He hates when someone calls him Sir.
Jun 2017
Lucas explained everything to the detail, i recommend him
Very friendly, to the point mentor. I recommend him.
Very helpful. Helped me clarify my errors quickly and clearly. Response time is immediate.
Lucas was very helpful! He was able to get straight to the problem, and both solve it and show you how it was solved. He basically walks you through the solution, and asks questions to ensure you understand. He even encourages you to participate which in the long run helps what he taught you stick. Very cool and smart guy ! And best of all if he doesn't get something he'll let you know honestly as to not waste your time or money
Excellent tutoring session ! A great deal was accomplished in two hours Lucas explained in detail how AngularJs functions and interacts with other various programming frameworks to create a functioning web application.
May 2017
If you are looking for a well rounded mentor to assist you in your programming endeavors then Lucas is the mentor for you. Lucas has a professional approach towards assisting you with your programming issues and needs. Lucas is Friendly, Professional, and has great Communication skills.