Not looking for Ec2 container service Developers? Find other types of developers:
View Profile
Freelance Ec2 container service developer in Brooklyn, United States
Professional Python Developer, Architect, Automation Expert
Professional computer engineer working as a python developer (Flask), with experience in automation and architecting web systems
View Profile
Freelance Ec2 container service developer in Buda, United States
Full Stack PHP/Java Engineer/Solutions Architect
I am an experience full-stack Java/PHP engineer with great experience in multiple technologies. I have been developing and engineering solutions for the web down to Microsoft Access. I am very passionate about my work and drive to learn and implement new strategies to better service end-users.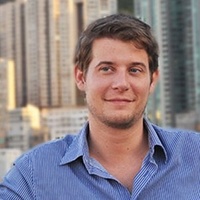 View Profile
Freelance Ec2 container service developer in City of Victoria, Hong Kong
Full Stack Developer: Ready to aid and abet the self-proclaimed geek.
Since the impressionable age of 12 years old, I've been excitedly coding and eagerly solving problems - tech and otherwise. To this day, I more than welcome the supposedly unsolvable and the utmost challenging. I pride myself on my love of learning and desire to expand and further my knowledge on tech topics, and hope this energy is something I can share in influencing others. I am a full stack developer (15+ years experience), with strong knowledge & passion for Golang, AngularJs, CouchDB, AWS and your good old fashioned HTML/CSS. At PassKit, I head up our Engineering team, and am responsible for leading our Enterprise Client integrations. It's my job to make it a piece.of.cake. for other techies, marketeers and companies to get their content into the exciting space that is Mobile Wal...
View Profile
Freelance Ec2 container service developer in Dresden, Germany
Founder/Principal at Masterpoint Consulting
I'm a Freelance Full-stack Engineer from Philadelphia. I've been in Software Dev professionally since  2011 and working primarily in startups I've done a bit of everything: full-stack web, mobile, devops, big-data, and project/team management. I currently freelance as a full-stack web developer focusing on Ruby on Rails and Emberjs, but I work on a whole assortment of other projects when it's called for. I'm a big fan of mentoring and I've done it both in and outside of work for a handful or more different junior engineers. I enjoy the process of helping others understand the programming world and it's a great way for me to put my own knowledge into practice. Outside of the tech world, I'm big into rock climbing, punk/hardcore music, and traveling. I've been on the road since Feb. 2017 a...
View Profile
Freelance Ec2 container service developer in Decatur, United States
Helping you grow as a developer.
Passionate about helping others grow in their talents as developers & entrepreneurs. Run Tenrocket.com building out applications for startups. The virgin islands are my second home :)
View Profile
Freelance Ec2 container service developer in Cape Town, South Africa
Over 20 years of Oracle - kept up to date with modern IT
ABSTRACT 1. Implementation, Customization, Giving Direction, Managing Compliance, Ensuring Time of Delivery, Consultation and Advice to Board level. 2. Provide functional and technical leadership in the development and support of systems. 3. Gather business requirements and processes to accomplish development and support activities. 4. Ensure successful alignment between functional requirements and technical solution. 5. Manage resources (people, hardware and software) for support and development – including mentoring (not spoon-feeding) - white-space situations. 6. Vast management experience has led to the identification and enhancement team synergies. 7. Most often used in re-alignment of problematic projects – since author was one of the first ten Siebel Trainers in South Africa, so cho...
View Profile
Freelance Ec2 container service developer in Hyderabad, India
A backend developer with DEVOps Experience
A backend developer with experience of building scalable architecture who loves hacking and tinkering and finding new ways to optimal solutions,Diehard fan for linux and open source .I am always on look out for new challenges .I get motivated when my work impacts lives of people or community . I enjoy being part of culture where creativity and problem solving goes hand in hand .
View Profile
Freelance Ec2 container service developer in Urbana, United States
Linux Administrator/Domain Designer
My passion is to provide system administration and systems process analysis for enterprise-critical technology. I enjoy resolving technological challenges and improving architectural stability of my domains. At Parkland College, I was the Linux Administrator for the Business and Computer Science Technologies (BCST) academic department: linux lab machines, thousands of student accounts, and various servers including NIS, NFS/filesharing, DNS/bind, nagios, Ansible, FreeIPA, CUPS and apache webservers on Slackware and CentOS. I leveraged Ansible for configuration management and AWS for backups and warm spare servers. I wrote scripts in bash, and maintained/updated the previous admin's scripts. I learned Python 3 in order to write a complex script that would have been too ugly using bash built...
Need to Hire a Senior
Ec2 container service
Developer?
Get Started
Are You an
Ec2 container service
Developer?
Get paid while making an impact. Become a Codementor for the next wave of makers.
Apply Now