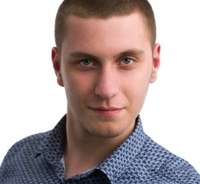 Dragomir Kamov
$10.00
For every 15 minutes
My Aeronautical Engineering university degree and work experience as a Java developer enable me to be extremely efficient in projects which connect Software Engineering and Physics / Mathematics. I work on projects that solve real life problems and I am eager to pass this mentality to people willing to embrace that challenge.
I am working on a fuel efficiency and flight optimization software at Honeywell Aerospace. I have mostly worked on importing, parsing, processing and efficiently storing flight recorder data. Plus, I am developing various analysis which use the processed data in order to provide various flight analysis possibilities.
Plenty of work done on various engineering problems during my university studies. This includes plenty of flight simulation problems, guidance algorithms and overall development of mathematical models of various physical problems. I am also good at visualizing mathematical and physical problems in order to provide better understanding of the overall problem.
My work duties include importing and arranging huge sets of flight recorder data. Also, I am developing an expression language which can be used by our clients to write SQL queries in a more easy to understand manner.