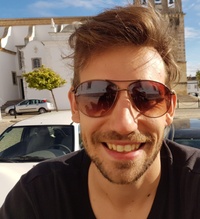 Dominik Heine
MSc in Machine Learning. Java Developer of nearly a decade.
$20.00
For every 15 minutes
I have a Masters degree in Machine Learning, Data Mining and High Performance Computing (University of Bristol, UK). I have been working in software development for nearly a decade in various domains from travel to education to banking, but one thing has not changed: Software development has always been an incredible tool to transform ideas into reality, which is why I am excited to pay that skill forward.
Berlin (+01:00)
German, English
IoT Alarm System App Embedded home alarm system to check and control your house from anywhere in the world using an iOS or Android mobile App. The system will detect burglar, fire and other alarms and allows to control electronic devices such as lights, window blinds, garage doors and much more. Teacher App Mobile- and web application to track pupil's learning progress when traditional grades are not appropriate. Examples include children of young age or disadvantaged children.