Find a mentor

Web Programming

Mobile App Programming

Programming Languages

Data Science /Engineering

Database /Operations

Others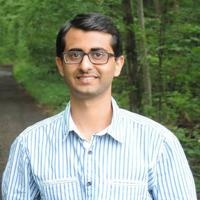 Dishant Soni
A JavaScript Ninja and passionate tutor
$10.00
For every 15 minutes
I have deep understanding on front-end technologies. This involves HTML5, CSS2/3 and JavaScript with OOP. I am professionally a full stack developer expert on Java based frameworks. Open to solve and help with any front-end, java and design based problems.
Central Time (US & Canada) (-06:00)
Hindi, English
I have more than 5 years of professional experience working on Front-End technologies. I believe that my strength lies in fundamentals of JavaScript.
I have 5 years of professional experience working with HTML. Understanding the semantics of HTML structure is almost as important as constructing foundation of a building. Having good understanding on what to use when and why in HTML will lead one creating maintainable websites. I believe I have good understanding on markup language. Along with the basics I am also aware and experienced with HTML5 features
I have used Java throughout my career so far as a server side programming languages. I have experience on J2EE based web frameworks and JAX-WS web services. Worked with Apache Wicket and Play Frameworks. I am open to help with any questions related to Core Java, Java Design Patterns, Data Structures etc.
I am well familiar with JQuery framework. I have mostly used it in creating internal applications that heavily rely on RIA components and AJAX functionalities.
I am in deep love with MVC on front end and AngularJS has gained so much popularity recently that it is impossible for someone in front end space to be unaware about it. I have basic to intermediate level of experience with this technology. I can definitely mentor someone who is just starting out with AngularJS
I have used CSS now for more than 5 years professionally. I can put CSS on top of my skill sets as I do have a strong passion working with CSS. I am also well aware about responsive web design , grid systems, media queries and related topics.
I have been using SASS recently with my AngularJS projects. I am becoming a fan on CSS pre-processing frameworks. I can help one who has started working on SASS
I have professional experience with this framework. Even though YUI is no more supported by Yahoo anymore, I can help those who have their existing project running on YUI and need any kind of help solving any issues.
I have been using Bootstrap on my side projects. I am well aware of all components of this framework and mentor anyone who wants to know how to quickly create prototypes or even build website using such framework