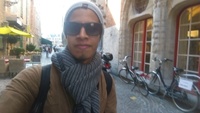 Didier C Torres
Full stack developer. Any problem is just an opportunity to get creative.
2 Years as a Codementor
This is how I reached 1000 sessions on Codementor.
What does your workspace look like?
Show us your world! Take a picture of your workplace and share it with us in the comments section.
UC Berkeley Machine Learning Crash Course: Part 1
Learn all the basics of machine learning — regression, cost functions, and gradient descent. This is the first article in Machine Learning at Berkeley's Crash Course series.