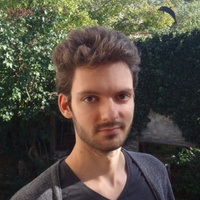 Denis Carnino
Machine Learning / Deep Learning / Computer Vision Expert. Top-Rated Freelancer on Upwork.
$25.00
For every 15 minutes
Consulting services in machine learning, deep learning, computer vision and data science. Expert knowledge and advice about projects in these fields. Research and development of personalized and adaptable solutions. Mentorship for ML / DL / CV / AI practitioners. Passionate about machine learning, deep learning and artificial intelligence, dedicate myself to real-world patterns understanding and prediction. Background in computer science, modeling and data analysis. Considerable experience in machine learning with projects in diverse fields (medicine, genetics, acoustics, finance, fashion, sport). Professionally recognized: excellent feedback from all clients and associates. Academically outstanding: was ranked 1st in data mining/machine learning, statistics, python language, and matrix analysis courses. Graduated from world-class university (ENS Lyon, ranked 5th in Times Higher Education World's Best Small Universities 2016) and top-tier French engineering school (INSA Lyon, ranked 1st among 5-year engineering schools in France by L'Étudiant 2016).