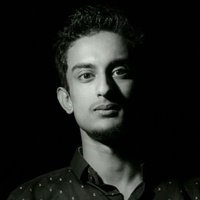 Debashis Barman
Full Stack JavaScript Developer / Freelancer
My name is Debashis Barman and I have around 3-years experience in web design and development. I am skilled in developing cutting-edge web applications to help projects stand out in the crowd. My passion is helping local business owners expand their clientele reach by creating an engaging and memorable web presence. Communication with the client is very important to me so that I can have a clear understanding of his/her needs and vision of the project.
Github repositories
Kathamo
A Minimalist CSS Framework for Beautiful, Mobile-Friendly Development.
Creating a Twitter bot with Node.js
Learn how you can create (http://www.gicbol.com/twitter-bot-node-js/) your own Twitter bot (https://en.wikipedia.org/wiki/Twitterbot) using Node.js (https://nodejs.org) and the new Twitter API...