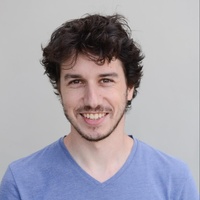 David Brailovsky
Software Engineer, Machine Learning Enthusiast
$15.00
For every 15 minutes
Experienced software engineer that loves solving problems. Fast learner, autodidact, always learning. Very good at analyzing complex problems and finding simple solutions. Built mobile apps (iphone/android), scaled backend infrastructures (java, aws), and played a lot with data. Have a background of in-depth understanding of computer networks, operating systems and information security. Now playing around with deep learning. Interested in self-driving cars and preventive healthcare. github.com/davidbrai medium.com/@davidbrai
Using Deep Learning to Recognize Traffic Lights
How I learned deep learning in 10 weeks and won $5,000
How Self-Driving Cars "See"
The world through the eyes of a self-driving car: Visualizing which part of an image a neural network uses to recognize traffic lights
Average Rating
5.0
(4 ratings)
Another great session. Some practical machine learning tips & trips. Good advice about where to concentrate my efforts.
Worked through a basic neural network with David. He's great at explaining complex concepts.
David help me get my ML project kicked off in the right direction! Helped me break it down, and focus on the very first steps that I need to take. I look forward to working more with David.