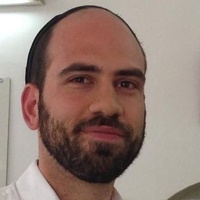 Daniel Strimpel
I am a developer with a passion for writing clean, elegant Java applications according to OOP best practices. My journey began with a degree in pure math and led to positions in PHP back-end development, writing sample code for a C++ cryptography API, and coding Ruby on Rails in a remote agile team. Recently, I spent 24 weeks in an intensive web development bootcamp, leveraging everything I had learned about analyzing problems into manageable pieces, taking initiative to ask the right questions, and listening to and sharing with others as a member of a team.
Java
- 20 years experience
My experience with Java consists of projects that I conceived and carried out myself, some only a few days from start to finish, others continuing over months. While I love the thrill of completing something that works, I love even more the challenge of writing code that is well structured, readable and extensible through applying OOP principles. By implementing abstract concepts such as Finite State Machines and Flow Networks, I have come to a deeper understanding of them. By implementing some classic games, I got comfortable with real-world libraries such as Swing. I believe the best way to judge a developer is by looking at the code they write. To that end, I invite you to review my Java projects available on github.
I learned Ruby on Rails in an intensive 22 week bootcamp program which culminated in a remote agile team project. In the project, we built a browser based chess app which enforced the game rules. Another rails app I built independently enables users to search for and store books from Amazon in a user's library, attach notes to specific pages of books, and sort book listings by any field. I learned how to consume web services from my app, employ RESTful routes, design relational databases and test with RSpec.