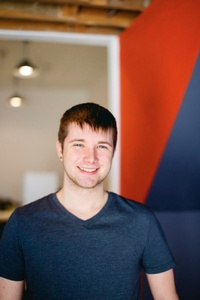 Alex Roth
Code Junkie, Dog Dad and all around nerd.
$15.00
For every 15 minutes
I spend most of my time working from home as a lead developer for an adtech company. In my spare time I can be found hacking away at new ideas, listening to podcasts or playing with my dog, Hodor. I've served as a mentor on my teams throughout the years and am comfortable working with anyone, whether you've never written a line of code in your life or you've built entire systems in Java. Javascript is my favorite flavor of code but I'm also a fan of Python, PHP, C# and Ruby. I also spend free time volunteering in my local Entrepreneurship community and helping support people with new ideas who need a bit of extra technical knowledge. If you're interested in meeting with me just let me know!
I've been working with javascript in multiple areas, with specialization in Node.js, Ember.js and Canvas API games & Image processing.
I've Worked at a startup prototyping features for UI/UX experience and translated those to fully developed, performant and scalable API's. Worked with integrating several partner API's and created several modules dealing heavily with asynchronous recursive problems.
Helped build a full featured realtime application used by tens thousands of users & built complex features, custom ember helpers, components, and services.