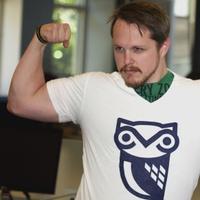 Ryan Bush
Senior iOS Developer with experience since 2009
Senior iOS Developer with industry experience since 2009. I have worked on dozens of mobile applications and continue to strive for quality in everything I create. I help companies create quality products in the beginning, or turn their already created application into one, that will last the test of time so it doesn't need to be completely rewritten in a few months. Unlike other developers, I have experience from initial idea, to design, through implementation, and deployment, so I can predict potential problems before they happen to reduce costs. A little more about me, I've launched several dozen complex iOS apps. Collectively, they have grown to many millions of active users. My clients include Apple, Time Warner Cable, DaVita, Experian, Charter Communications, and many more. Check below for just a few of the apps I have worked on!
Swift
- 3 years experience
Most of my development for the past 3 years has been fully in Swift. I have experience creating full Swift applications from the ground up, as well as hybrid Swift and Objective-C applications.
I have been developing iOS applications with Objective-C since 2009. I have experience creating fully Objective-C applications, as well as hybrid Objective-C and Swift applications. I am very familiar with the iOS Objective-C SDK.
Github repositories
VIPER-Templates
Swift Xcode templates for creating VIPER architecture stacks
WoWEvenDistribution
WoW addon to evenly distribute an item across multiple characters.
A New Spin on the Classic - AR Tic Tac Toe
A quick intro to augmented reality using iOS's new ARKit to make the classic game Tic Tac Toe.