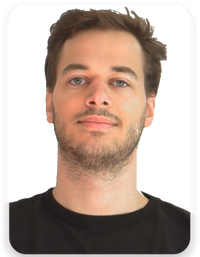 Christoph Michel
JavaScript Expert, ES6/ES7, React, React Native, Redux
$10.00
For every 15 minutes
Frontend / Mobile Android Engineer, Visualizations: I design clean, beautiful web and mobile apps with the User Experience in mind using the React / React Native ecosystem. My apps are well received with a rating of 4+ stars and downloaded hundreds of times each month. You can see some of them on my Google Play Developer site [1]. I 'm also passionate about creating advanced visualizations with D3.js that "tell a story with data" or use the visual element to explain things [2]. [1]: https://play.google.com/store/apps/developer?id=cmichel [2]: http://mathart.xyz/portfolio/ Mentoring: ★ I don't feel comfortable if I wasted your money. So if I ever cannot solve your issue in time, I 'll think about it off screen for some minutes and get back to you, or you'll get a refund.
Github repositories
react-native-motivation-app
An alarm clock for Android that plays a new inspirational video for your daily motivation whenever the alarm fires. Written in React-Native using Redux.
react-native-android-library-boilerplate