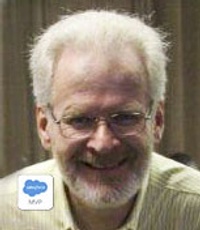 Calvin Smith
Salesforce MVP, Senior Developer & Technical Architect
For every 15 minutes
I'm a Salesforce MVP and Certified Salesforce Developer who primarily does contract programming and development. You'll frequently find me on Salesforce.StackExchange as crmprogdev helping others with questions about Salesforce. I'm active in the Dallas Salesforce Developer User Group and it's Leadership Team. I also co-lead our Developer I/II Study Group. Recently, I've added to my Salesforce technical skills, attending Salesforce University classes on Web Services (DEV-502) and Lightning Components (DEV-601) . I've also learned more design patterns beyond those specific to Apex/Salesforce as I've transitioned into a Technical Architect Role. I've headed down the Domain Certification track in the Salesforce Architect Academy. Like other developers, I continue to learn new features and to use other features that are being added to the Salesforce platform, particulary Einstein Analytics. I expect to pick up more HTML5, SLDS and CSS3 along the way. Specialties: Salesforce Application Development Salesforce Apex Triggers & Classes Computer Programming/Scripting Systems Design, Analysis and Architecture Computer Graphics & Design
I'm a Salesforce Developer MVP who's worked on the platform for about 4 yrs, has 4 certifications & leads/teaches App Builder & Developer I Study Groups for the Dallas Developer User Group. Currently #7 on Salesforce.StackExchange in all time user reputation. I mostly write Apex Triggers and Classes, but also do point and click configuration. I've architected solutions that have included the non-profit starter pack (NPSP), custom email services, apex managed sharing, communities, data error handler reporting systems and much more. All of my development centers around test driven design.
Salesforce MVP and Certified Developer/Admin. Can help with building any Application setting up Security/Sharing/Permission Sets, Email templates, PDF templates and controllers, plus much more.
Salesforce MVP and Certified Admin. Can assist with Data Extraction and Data import via Data Loader and other tools.