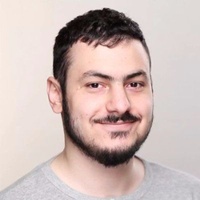 Chris
Average Rating
5.0
(11 ratings)
May 2018
Awesome! Great work. Super helpful. Very knowledgeable.
Very good work, very knowledgable. Will definitely use again.
Mar 2018
Christos was a pleasure to speak with. He was patient with my newbie questions and gave me some good pointers to think about.
Feb 2018
thank you Chris for helping me and thanks also for your effort
Christos did pull through and also helped me greatly with the backend since the original job was delayed a week, but I wish he would have turned down the job. I did agree that he should continue even though the project was delayed a week. He also informed me that he was leaving for a very long bootcamp in 3 to 4 days since he did help greatly with the backend, but I am finding small errors in code, and some code not even completed. I think that he would have finished the job and done a great job, but I feel like this was a rush job overall and I am disappointed.
Christos was very professional and knowledgeable. He was able to get to the root of the problem and fix it in a timely manner.
Jan 2018
Excellent! Quickly resolved the digital forensics problems I had been working on for several days. Christos quickly understood the problem and found a workaround to get me to where I needed to be. Highly recommended!
Dec 2017
Christos did a great job for me and helped to find a quick answer to blocking issue in my Python module. He had saved me hours of frustrating trial and error debugging.