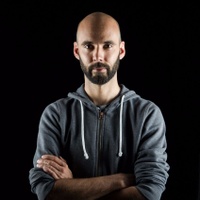 Christian Eichelmann
Full Metal Ops guy with coding affinity, practising and evangelizing hate driven development.
For every 15 minutes
Mainly experienced in system engineering and IT architecture I became a Python evangelist over time and created some great software projects with my colleagues over the years and over many companies. I have very high-quality standards for myself and only sleep well when I know that I have done my best. And I usually sleep like a baby. Since DevOps and Infrastructure as Code, developers need more and more operation skills and vice versa. Feeling at home in both areas I can also contribute to both, especially with my experience in setting up company-wide continuous deployment pipelines.
3
Python
Fully scalabe system monitoring / performance graphing
- Development of a fully scalable open source based monitoring system - Based on InfluxDB as backend - Metric collection via Telegraf / Prometheus - Metric dashboards via Grafana - Alerting via Kapacitor / Alerta - Custom Adapter / Plugins in Python
2016
Client: Daimler TSS GmbH
Petabyte scale Ceph storage cluster
Design and build a distributed storage cluster - Build an Open Source ceph dashboard - Choose storage and networking hardware - Implement automatic deplyoment of all cluster components via Puppet - Write custom tools/dashboards for monitoring - Create in-depth technical documentation
2014
Client: 1und1 Internet AG
REST API for Nagios/Icinga configuration
Development of a full-featured REST API for configuring Nagios - Design und Development of a RESTful API in Python/Flask - Userinput validation / Intelligent error handling - Self describing interface
2012
Client: 1und1 Internet AG
OpenSource Metric Based Monitoring
I decided to share my current experience with monitoring volatile infrastructures. Or, in other words, monitoring in a constantly changing environment, where nodes and container can appear and disappear anytime.
Average Rating
5.0
(6 ratings)
Very helpful and patient.
I had a session with Christian last week. During this session, I'm updating him my progress and asking for more help. It's good to "work" with the person who knows about your project.
Christian is very patient considering I know basically nothing about flask. He would explain to you everything you find confusing until you get it
He has been very helpful. Very quick and well explained!!!!
He knew exactly how to fix the errors I was dealing with in Ubuntu.
Christian was a great mentor! He helped me correct the misunderstandings that I had with integregrating various pieces together
Christian has some good knowledge on SqlAlchemy.