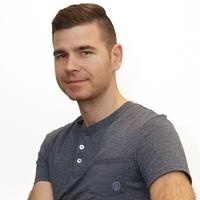 Boza Zec
$14.00
For every 15 minutes
Software engineer with 6 years of experience in software development with PHP, NodeJS and ReactJS as his areas of expertise. Skilled with both back end and front end web application development. I am very hard-working engineer devoted to developing software of highest quality. Also, I am highly adaptable and communicative and fits into any team instantly, always ready to share my knowledge and experience. My ability to learn quickly enables me to grasp cutting edge technologies and implement them using best practices. Customer satisfaction is my highest priority. When working, my goal is to create software with usable and intuitive user interface. I always have user experience on mind.
5
Node.js
5
JavaScript
3
HTML/CSS
3
Css2
I have been working on various projects as a front end developer where I was responsible for psd to html, jQuery validations and other JavaScript on the apps. I am mostly working as a full stack developer with Node.js at back end.
Creating and maintaining google and facebook ad campaigns. Detail reports on google analytics. SEO of websites. Increase of website visit dramatically.
Average Rating
5.0
(32 ratings)
Great Mentor! I've worked through many complex issues with Boza
Boza helped me solve a very complex problem with google maps in react. He is very good at thinking through problems and also explaining the solutions.
Boza is a great mentor, who is always able to solve the problem. He is great at debugging and understanding how everything works.
Boza, was very helpful in addressing my issue and help me build my real estate site. His way of thinking through all problems was very insightful and he's able to solve any problem you give him
Fantastic session. Thank you.
Great session. Thank you.
Focused on the issues I had and kept working at it until it was finished, great help. Thank you.
Fantastic tutor, Thank you.
thorough explanations and examples, very helpful
Great help!
NicoleMontano13
Mar 14, 2017
VIEW MORE REVIEWS