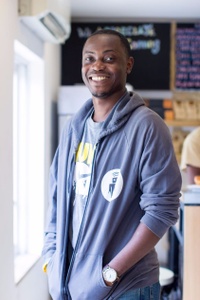 Bosun Olanrewaju
Experienced Full Stack Web Developer | JavaScript, PHP, Ruby on Rails, WordPress
$11.00
For every 15 minutes
I am a senior full stack web developer with over 5 years of experience working with HTML5, CSS3, JavaScript (AngularJS, jQuery) on the front-end and Ruby (Ruby on Rails), PHP (Pure and WordPress development) and NodeJS on the back-end. I have a very strong debugging and problem solving skill.
3
Node.js
3
JavaScript
Github repositories
wp-rave-payment-forms
Take donations and payments for services on your WordPress site using Rave.
WooCommerce-Rave-Payment-Gateway
Rave payment gateway quick checkout for WooCommerce
Average Rating
5.0
(9 ratings)
Amazing Mentor and coder. Solved problems no other mentors would even take one, spent sleepless nights trying to solve my problem out of his own thrive to complete the job - He was very dedicated to solving it even though he didn't need to be. I highly recommend. I can assure you he will be better than any mentor you can find on the site, and will not give up no matter what. Even from the simplest of issues to the largest of issue's. I had an issue with electron and he went out of his way to read the documentation for me. I highly recommend. Also a very nice guy, easy to speak too! I love forward to working with him in the near future
excellent and very nice mentor!
Amazing mentor definitely would recommend