Back in 2003, WordPress was developed by Matt Mullenweg and Mike Little as a simple blogging platform. Today, it is a much more comprehensive content management system that can power entire businesses and is now responsible for the infrastructure and design of over 30 percent of the web.
The mission of the open source WordPress project is to democratize web publishing and make secure and powerful software highly accessible to the masses. With over 50,000 WordPress plugins available to customize sites with unique features and countless design themes, it is well on its way to achieving this goal.
While WordPress is already a popular tech choice for everything from e-commerce sites to community forums, and its applications are set to grow even more with recent developments.
WordPress Rest API now allows developers to create Single Page Applications on top of WordPress and more easily structure and access data
The new Gutenberg editor will make WordPress even more user-friendly by unifying multiple user interfaces and allowing users to effortlessly create rich post layouts
After Facebook dropped their patent clause for React 16, there will now be more opportunities to use React to build on top of WordPress
To build a WordPress site that brings to life the functions and UX that will best serve your audience, you'll want to recruit a skilled WordPress developer with design sense, knowledge of PHP, front-end development, API integrations, and WordPress frameworks. To that end, this post goes over the following sections:
WordPress Developer Salaries
WordPress Developer Freelance Rates
WordPress Communities, Resources, & Events
WordPress Developer Job Descriptions
WordPress Interview Questions
Popular WordPress Plugins
WordPress Developer Salaries
The good news is, of all the tech stacks out there, WordPress development is rather affordable while still providing a great range of flexibility and functionality. Affordability aside, beware of opting for the lowest bidder, which indicates a lack of confidence or perceived value of one's own work. To help you gauge what skilled and confident WordPress developers should cost, this section will go over national and state salary averages, as well as WordPress developer freelance rates.
WordPress Developer Salaries in the USA
According to data from Indeed's salary pages, the average WordPress developer salary in the United States is $69,565 per year.
Average Salary By State
Salaries vary by location, depending on a number of factors, including: the supply of skilled developers relevant to demand, the cost of living, and the ease or difficulty of outsourcing work online. Here is an ordered list of WordPress developer salaries for U.S. states with hot tech markets or a high number of software related job openings.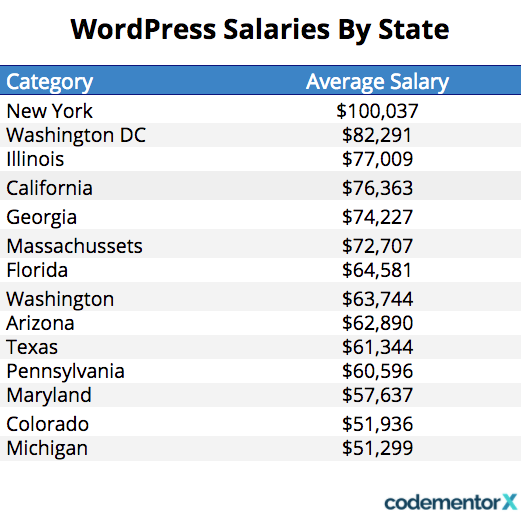 WordPress Developer Freelance Rates
Hiring freelance developers may also be an ideal way to make your WordPress dreams come true. According to Codementor's survey of over 5,000 freelance developers around the world, on average, freelance WordPress developers charge $61 per hour. Keep in mind that this survey included participants of varying experience levels from all around the globe. WordPress developers in Asia, North Africa, and the former Soviet Bloc may charge lower than $50 per hour, while skilled developers in North America may charge upwards of $100.
Below is an estimation of monthly and annual costs of working with freelance WordPress Developers.
WordPress Freelance Developer Monthly Average Salary
40hrs/Week x 4 Weeks = 160 Hours
160 hrs x 61 = $9,760 Per Month
WordPress Freelance Developer Annual Salary
$9,760 x 12 Months = $117,120 Annually
Comparing the cost of full-time salaried WordPress developers against the cost of freelance developers, the former may seem like a bargain. However, keep in mind that unpaid benefits and indirect costs significantly increase the overall expenditure of full-time on-site employees.
To learn more about the cost of full-time developers vs. freelance developers, read this previous post.
WordPress Communities, Blogs, and Events
Beginning your journey of finding a reliable WordPress developer can be a disorienting process, but the online landscape is a natural place to start.
This section will introduce online communities, WordPress related events, as well as blogs and tutorials.
Online Communities
Online WordPress communities provide hiring managers and startup founders with an outlet to network with skilled developers, as well as learn of recent WordPress developments. Here are some that we have found most useful.
Making WordPress Slack Community
This original WordPress community has recently migrated from IRC to Slack. It is used for contributing code, design, and documentation to the WordPress community. Note, this Slack channel is not for WordPress help and support, but for WordPress development.
WordPress.org Support Forums
WordPress.org supplies a variety of resources, including: sharing and troubleshooting forums, networking forums, development forums, themes, plugins, and more.
WordPress.com Support
WordPress.com is the hosting supplier option for WordPress development, and the support page offers everything from "getting started tutorials" to "best practices" forums.
WordPress Development Stack Exchange
Stack Exchange is a network of self-moderating question and answer sites for developers and administrators. Anyone can ask WordPress related questions, and the best answers are voted to the top of the list.
Stack Overflow WordPress Tag
The Stack Overflow WordPress tag is a highly active forum on everything related to WordPress content management systems. Here you can see most active users and users whose answers have gained the most votes, which is helpful in identifying knowledgeable and experienced WordPress devs.
Events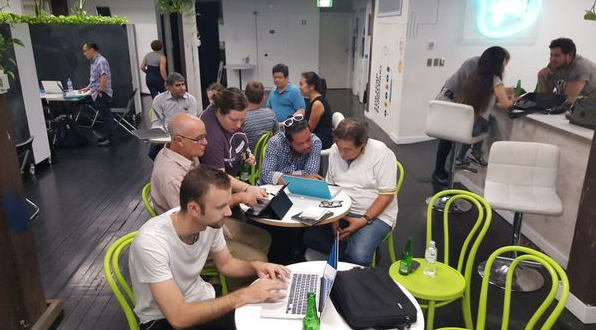 WordPress related events are an ideal way to connect in-person, join debates, and get referrals for potential partners to work with in the future. This section presents a list of WordPress Camps and Meetups. Don't forget, even in an internet-focused industry, face-to-face connections can still carry a lot of weight in establishing long-term partnerships.
WordCamps are casual, locally organized events put together by WordPress community members to discuss and share on all topics WordPress. There are hundreds of events all over the world every year — check the schedule here to find one nearby.
WordPress Meetups represent another opportunity to meet, greet, and learn about general and specific WordPress development topics. The WordPress Meetup community consists of over 500,000 members and more than 1,000 events around the world. You are sure to be able to find one in your locality to attend.
Blogs and Tutorials
Blogs and tutorials are a great resource for learning about the latest plugins, WordPress applications, and news — such as progress on the Gutenberg editor — not to mention a means of identifying knowledge authorities in the field.
Hongkiat
This is a site dedicated to development and design, and a section of their blog has a wealth of WordPress related material. The WordPress pages have articles on everything from top WordPress themes and plugins to ways to boost your site speed.
Smashing Magazine
Smashing Magazine offers its own content as well as curations of content for web developers and designers. The site has a WordPress community for beginners as well as a blog for more advanced WordPress developers who want to optimize their sites.
Make a Website
The WordPress tutorials and reviews section of this site provide a depth of regularly published material on making a WordPress blog, product reviews, plugin updates, domains and web hosting, and more.
Awesome WordPress GitHub
This is a curated list of WordPress plugins, themes and frameworks, tools, books, and resources for everything you could possibly want to know about WordPress development.
WPHUB
This site offers WordPress themes, hosting, an up-to-date informative blog, and a WP 101 section for those who are just starting their WordPress journey. WPHUB also offers a library of step-by-step resources to help site owners and developers successfully implement new functions.
WordPress Developer Job Descriptions
To attract the right WordPress developer to build the functionality your site needs, you'll need to draft a compelling, specific job description that convinces prospects your opportunity is worth their time and skills. Every job description should contain some requisite information that candidates need to know before they can consider the position.
Be sure to include these five sections in your job description:
Job title, location, type of employment (full-time, part-time, etc.), salary range
Company overview, vision, mission statement, and culture
A detailed list of day-to-day responsibilities
Required skills
Benefits and perks
Customize these sections so they fit your company's culture, values, and talent needs. When drafting a job description for a WordPress developer opening, you should mention the specific use case you are building for, and the technical experience you are expecting. For example, if you are looking for unique themes or custom built plugins, you should note that you need a developer experienced in PHP and MySQL so they can build their own. Likewise, if you will need various API integrations, you should list these requirements in your JD.
To give you a better idea of how to draft your job description, here we will share two examples — one that's pretty good, and one that could be improved.
Pretty Good!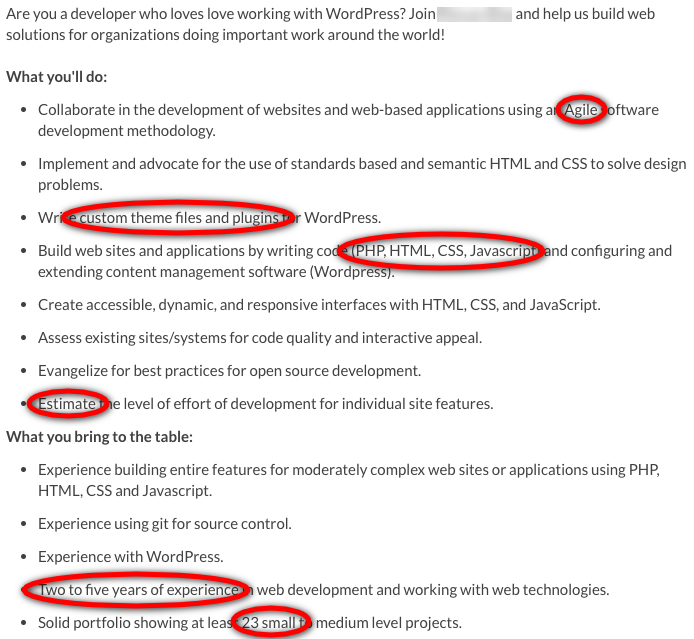 This job description speaks the language of engineers — it does a good job of explaining the type of work that will be performed, the job requirements, and the expected knowledge and experience. Right off the bat, the post notifies prospects that they should be prepared to collaborate with colleagues using Agile development methodology. The post also emphasizes that developers will need to have the skills to build their own themes and plugins, and should be able to code in PHP, HTML, CSS, and JavaScript.
At the conclusion of the job description, the years of development experience are listed and the portfolio requirements are given. Developers reading this job description will know, with a high degree of confidence, whether they are qualified for the role or not. The only thing that could make this job description even better is to include more specific years of experience required for each technology.
Could Be Improved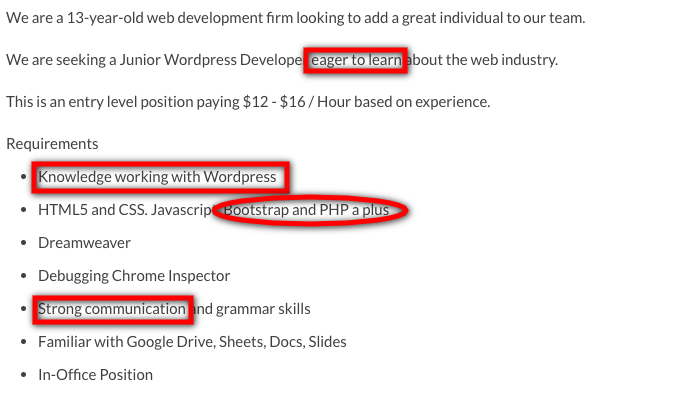 Even at first glance, this job description is pretty barren. While it's true there may be fewer requirements for a junior developer, simply writing "eager to learn" is not enough. The job description does mention some preferred technologies, such as Bootstrap and PHP, but it does not explain what this tech will be used to build, or any related experience or interest the applicant should have. Including "strong communication" is a good start, but this should be elaborated upon: who will applicants need to communicate with? In what form? Written or spoken? With regards to what kind of projects?
As it is now, this job description will probably mean more work for both the recruiter and candidate, since each party will have very little idea if the other is a good fit.
This job description could be improved by including more details on the company, its product, and its mission. In addition, it needs to beef up its requirements section to better explain what candidates need to know, or will be expected to learn. Lastly, job tasks, expected finished product, and target consumer should be included.
WordPress Interview Questions
Once your job description has attracted some promising candidates, you'll need to put their knowledge to the test in an interview process designed specifically for WordPress development.
In addition to looking out for signs of strong communication, passion for development, and genuine interest in your company's product and mission, your interview should test candidates' technical knowledge of WordPress development.
Here are 10 WordPress developer interview questions to help you get started.
What is the current version of WordPress?
What are your favorite online resources for WordPress themes and plugins? Tutorials and blogs?
List some WordPress features?
What is the activity widget in the WordPress dashboard?
What is the use of the search engine visibility field in WordPress reading settings?
What are hooks? Define the different types of hooks in WordPress.
What is the difference between characters 23 and x23?
How does WordPress use MySQL?
Are objects passed by value or reference in WordPress?
When is WordPress not suitable for a website?
To find the answers to these questions and more, you can reference Java Point and Tutorials Point.
Since WordPress and many compatible plugins are built using PHP, you may want a developer skilled in PHP development. If so, the technical portion of your interview should include PHP questions. Here are a few questions to help you gauge the your developer's level of familiarity with PHP.
What's the difference between the include() and require() functions?
How can you get the IP address of the client?
What's the difference between unset() and unlink?
What are the main error types in PHP and how do they differ?
What are traits?
Check out this post of 25 PHP Interview Questions and Answers.
Popular WordPress Plugins
WordPress plugins help developers extend the functionality of WordPress for almost any use case, including photo blogging, professional portfolios, online communities, social networking, and even government sites. Developers can also modify plugins or create their own to make completely new applications.
Here is a list of eight of the most popular WordPress Plugins that may be useful for your project.
Yoast SEO
Yoast SEO is touted as the number one WordPress plugin. As the name suggests, it helps you analyze your WordPress site for Search Engine Optimization. Its features include optimization for meta descriptions, ALT text, external and internal linking, titles, text, and more.
W3 Total Cache
This is a plugin that increases website speed by caching data as static HTML so that it can load faster the next time users access the same page. Improving speed and performance is a vital factor in improving search engine rankings, and this plugin is a great tool to help out in that regard.
Akismet
Akismet, developed by WordPress founder Matt Mullenweg, now comes with every WordPress core installation. This plugin serves as a spam filter and allows site moderators to view approved comments for each user, their comment history, and remove suspicious URLs.
MonsterInsights
MonsterInsights connects your page to Google Analytics and allows you to monitor how users interact with your site. With a better understanding of performance levers like unique views, returning users, and conversion rates, you can make adjustments to boost traffic and revenue.
Woocommerce Plugin
This is a flexible plugin for creating eCommerce stores — it currently powers 30 percent of online shops. The Woocommerce plugin is compatible with the majority of WordPress themes and helps developers and site owners set up functionality for selling physical goods, digital goods, subscriptions, shipping, and more.
Smush Image Compression
Images take up a lot of space and reduce site speed. The Smush plugin compresses all JPEG, GIF, and PNG files so they take up less space, and also has a bulk compress function to compress up to 50 attachments at one time. This helps your site retain its appeal and its performance.
Google XML Sitemaps
This plugin automatically creates an XML sitemap for your WordPress site, helping search engines better index your page. Every time you publish something new on your site, search engines will be notified, and bots can retrieve results more efficiently, which will improve your site's SERP.
WordFence
WordFence is an all-inclusive security plugin with features such as: a web application firewall, malware scanner, login protection, live traffic monitoring, and more. The tools provided by WordFence help you better assess threats and prevent attacks from hackers and malicious bots.
Wrap-up
Before establishing a formal relationship with a WordPress developer, don't forget to review their portfolio of completed work and consider a paid trial period. In addition, you should have defined a clear scope and requirements for your project, especially if you will be working with a freelance developer. This will help synchronize expectations and ensure everything moves forward on schedule.
To review, take the following steps to successfully partner with the skilled WordPress developer you need to build or optimize your site.
Consider whether your WordPress development needs would be best met by hiring a full-time WordPress developer, or partnering with a freelance developer, and allocate your budget accordingly.
Join online communities to learn and network. Keep up-to-date on WordPress news and developments through blogs and tutorials. Attend WordCamps and Meetups to network in-person, and meet talented developers who may be interested in working with you and your team.
Craft a compelling job description that introduces your company, its product, and vision, and details the technological experience you require, as well as the tasks to be performed.
Lastly, design an interview process that not only screens for enthusiastic developers who are strong communicators, but also tests for the specifical conceptual and practical tech know-how your WordPress project(s) will require.
Using the resources and tips offered in this article, you should be well prepared to launch your recruitment efforts. Happy hiring!
Looking to hire a WordPress Developer? We have a pool of pre-vetted candidates available at CodementorX. Talk to us now!